If you have ever wondered what the bible has to say about going to heaven, then look no further!
Today we will explore some of the most powerful and encouraging bible verse about going to heaven for encouragement.
From discussions on leaving earthly life behind, to believing in salvation through Christ, let's jump right in and explore how these scriptures illuminate the wonders of eternity!
What Does the Bible Say About Entering Heaven?
The Bible states that only those who accept the gift of salvation and the forgiveness of sin through Jesus Christ can enter into Heaven. John 3:16 says, "For God so loved the world that he gave his one and only Son, that whoever believes in him shall not perish but have eternal life."
Also Read: 25 Bible Verses About Being Reunited With Loved Ones in Heaven
Bible Verse About Going to Heaven
The Promise of Heaven
The Promise of Heaven refers to the belief in the afterlife as a place of eternal joy and peace for those who have faith in God and follow His commandments.
According to Scripture, believers will be reunited with God, free from pain and death. They will experience perfect harmony with Him, each other, and nature itself.
Ultimately, the Promise of Heaven provides comfort through hope for what lies ahead in the future.
"In my Father's house are many rooms. If it were not so, would I have told you that I go to prepare a place for you? And if I go and prepare a place for you, I will come again and will take you to myself, that where I am you may be also."
In John 14:2-3, Jesus is making a promise of eternal life in the afterlife. Specifically, he promises his followers that if we believe in him and follow him, then we will have a place prepared for them in his Father's house, that is, Heaven.
By preparing a place for us there before going to the cross and ascending into Heaven himself gives assurance that believers can look forward to reuniting with their Lord one day as well: "that where I am you may be also"
1 Corinthians 2:9
"Eye has not seen, nor ear heard, nor have entered into the heart of man the things which God has prepared for those who love Him."
This verse of 1 Corinthians 2:9 is a promise of the joy that awaits those who truly love God. It speaks to all the wonderful gifts, experiences and blessings that await us in heaven, far more beautiful and glorious than anything we have ever seen or heard on this earth.
This heavenly existence will be something entirely out of our current experience, but one filled with inexpressible peace, joy and contentment because we are loved by a holy Creator who desires for us to live in His presence forever.
Revelation 21:4
"And God will wipe away every tear from their eyes; there shall be no more death, nor sorrow, nor crying. There shall be no more pain, for the former things have passed away."
This verse from Revelation 21:4 is talking about Heaven as a place where all suffering and sadness will be gone.
There will no longer be death, nor sorrow, crying, or pain because those things have passed away and been replaced by God's peace and joy.
This verse provides hope for believers who are looking forward to the promise of an eternity without fear or hurt.
Philippians 3:20-21
"For our citizenship is in heaven, from which we also eagerly wait for the Savior, the Lord Jesus Christ, who will transform our lowly body that it may be conformed to His glorious body, according to the working by which He is able even to subdue all things to Himself."
Philippians 3:20-21 emphasizes the believers' hope for a heavenly home and assurance of God's transforming work.
This passage explains that all followers of Christ have an eternal citizenship in heaven, so it is our true home.
We anticipate the return of Jesus for his people and eagerly long for transformation when we will be changed to look just like Him with glorified bodies like what He rose from the dead with.
Until then, through His power, God will put everything under His feet and gain total supremacy over even death itself.
Colossians 1:5
"Because of the hope which is laid up for you in heaven, of which you heard before in the word of the truth of the gospel."
Colossians 1:5 speaks of the great hope that is held out to believers in Jesus, which is eternal life in Heaven with God.
This hope has been promised since before time began and was proclaimed through the preaching of the gospel.
In earning salvation, we are united with God for eternity, inheriting all its fullness of joy and peace.
Requirements for Entering Heaven
Those who wish to enter into the heavenly realm as described in the Bible must fulfill certain conditions. This includes accepting Jesus Christ as personal savior, sincerely repenting of sins, and striving to live a life that is pleasing to God.
Such a life is centered around love, compassion, kindness, honesty, and selflessness while also following Jesus' commands and teachings with an intention of serving God and others through one's actions.
Through this spiritual journey, one will ultimately be reconciled with God leading them entry into heaven where they can bask in His infinite love and joy eternally.
Matthew 5:20
"For I say to you, that unless your righteousness exceeds the righteousness of the scribes and Pharisees, you will by no means enter the kingdom of heaven."
This verse is a clear warning that, in order to enter the kingdom of heaven, one must demonstrate an even higher level of righteousness than that demonstrated by scribes and Pharisees.
In other words, just living according to the law is not enough; one has to strive for holiness beyond what it requires. In doing so, Jesus promises them entrance into Heaven if they fulfill this requirement.
James 2:17-18
"Thus also faith by itself, if it does not have works, is dead. But someone will say, 'You have faith, and I have works.' Show me your faith without your works, and I will show you my faith by my works."
These verses refer to the fact that belief in the promise of heaven is not enough on its own, we must prove our faith through our works. Without good works, faith alone is dead; absent proof that these beliefs are driving your behavior and action, they lack real power.
James encourages us to demonstrate our faith in what God has promised by actively pursuing virtuous deeds at home and abroad as an expression of trust in these tenets.
Ultimately, living out this proof will bring glory to God and ensure believers a place among His faithful followers when it's their time for entrance into Heaven's gates.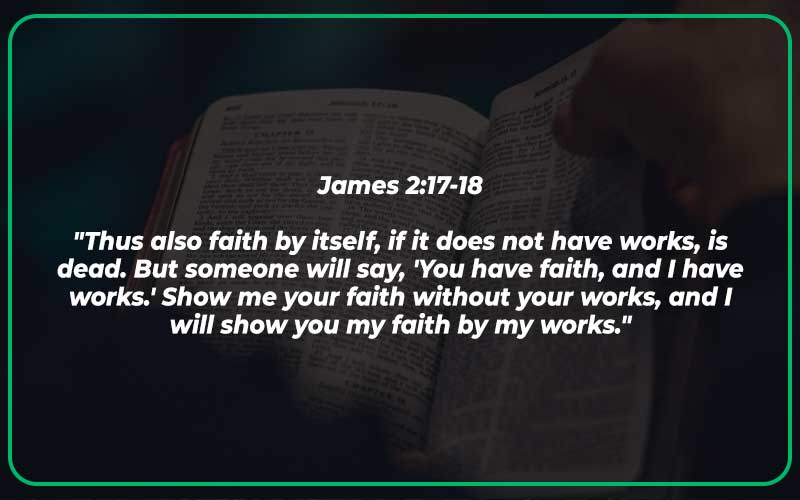 Matthew 7:21
"Not everyone who says to Me, 'Lord, Lord,' shall enter the kingdom of heaven, but he who does the will of My Father in heaven."
This verse is emphatic and serves as a reminder that simply expecting salvation based on our words or the promises we have made, does not grant us entry into heaven. Only those who actively do the will of God (being in obedience to His teachings) shall enter the kingdom of heaven. This encourages us all to live our lives in compliance with God's word so that when judgment day comes, we may be welcomed into His heavenly kingdom and reap the ultimate reward, eternal life with Him.
1 John 2:17
"And the world is passing away, and the lust of it; but he who does the will of God abides forever."
This verse speaks to the promise that those who do God's will abide in heaven eternally. It emphasizes the short-term and transitory nature of life on Earth, proclaiming it is fleeting compared to the everlasting promise of heaven offered through grace by our obedience to God's will.
Ultimately, those who turn away from worldly desires and embrace instead a path focused on living according to God's commands can find comfort in knowing that their eternal souls are secure in Heaven.
Revelation 22:14
"Blessed are those who do His commandments, that they may have the right to the tree of life, and may enter through the gates into the city."
This verse from Revelation 22:14 is highlighting the importance of behaving according to the Lord's standards and teachings.
The promise of heaven offered to those who are obedient will be granted access to its blessings, such as having "the right" (or entrance) into a city with a tree representing life, both tangible and eternal. In other words, faithful followers who follow God's commandments wholeheartedly will have eternal life in Heaven because of it.
The Glory of Heaven
As Believers in Jesus Christ we look forward to living eternally in Heaven, a place of perfect peace, joy, and love with no pain or death.
Reunited with our loved ones who have passed away and in the presence of God, this state is one of ultimate harmony between God and all His creation.
Heaven is full of beauty and glory where people will be rewarded for the good they did on Earth according to the Judgement Seat principles set by Christ. Ultimately, The Glory of Heaven is what we desire above all else upon completion of our mortal lives.
Revelation 21:22-23
"But I saw no temple in it, for the Lord God Almighty and the Lamb are its temple. The city had no need of the sun or of the moon to shine in it, for the glory of God illuminated it. The Lamb is its light."
These verses relate to the topic of the glory of Heaven because they describe a spectacular space in which God and Jesus are worshipped, specifically mentioning that no sun or moon is needed due to God's own light.
The reference to Jesus as the Lamb signifies His sacrificial love for humanity and expresses that even though He may not be seen physically among them, His spirit still resides in Heaven. In addition, it also alludes to how this place will bring about perfect peace since there is no temple implying there will never be any fighting or disagreements within its walls anymore.
1 Peter 1:3-4
"Blessed be the God and Father of our Lord Jesus Christ, who according to His abundant mercy has begotten us again to a living hope through the resurrection of Jesus Christ from the dead, to an inheritance incorruptible and undefiled and that does not fade away, reserved in heaven for you."
The Glory of Heaven is ultimately found in God, who is the Father of our Lord Jesus Christ. Herein lies a reminder that we are recipients of His abundant mercy, for He has given us the gift of rebirth, an eternal Living Hope through the work and power demonstrated by Jesus' Resurrection from death.
This hope gives us access to an inheritance that will last forever; one which cannot be stolen or tarnished but instead remains safe and secure in Heaven, kept there just for us. In other words, our hope lies not in temporal things but rather a guaranteed inheritance that comes with eternal security and joy found only through faith in Jesus.
Revelation 4:2-3
"Immediately I was in the Spirit; and behold, a throne set in heaven, and One sat on the throne. And He who sat there was like a jasper and a sardius stone in appearance; and there was a rainbow around the throne, in appearance like an emerald."
Revelation 4:2-3 is describing the Glory of Heaven. It talks about a throne in heaven with someone sitting on it, who appears to be made of jasper and sardius stone.
Furthermore, there is a rainbow around the throne that resembles an emerald. This description conveys how glorious Heaven must be when one beholds God himself seated on His Throne surrounded by His many wonders like a beautiful array of jewels shimmering brightly in all directions for all to see.
Isaiah 66:22-23
"For as the new heavens and the new earth which I will make shall remain before Me," says the Lord, "So shall your descendants and your name remain. And it shall come to pass that from one New Moon to another, and from one Sabbath to another, all flesh shall come to worship before Me," says the Lord.
These verses reveal a special promise from the Lord regarding eternity. In heaven, God promises that there will be no end to His glory, and it will remain forever.
Additionally, He says that all flesh shall come together at regular intervals to worship before Him, suggesting a continuous joyous reunion in Heaven where the redeemed people of God assemble together for an eternal celebration. This shows us how glorious Heaven is going to be when all of the creation gathers around its Creator with love and reverence for all eternity.
1 Corinthians 2:9
"Eye has not seen, nor ear heard, nor have entered into the heart of man the things which God has prepared for those who love Him."
This verse from 1 Corinthians 2:9 speaks to the glory that awaits believers who love God in Heaven. It reminds us that we, as finite beings with limited understanding, cannot possibly comprehend all of the beauty and blessings God has prepared for us in eternity. Therefore, it encourages us to open our hearts and minds to trust His perfect plan for His glory even when what He plans exceeds our imaginings or expectations.
Comfort for Those Who Have Lost Loved Ones in Death
The following Bible verses about going to heaven offer comfort for those who have lost loved ones in death and provide hope and assurance of a reunion one day.
These comforting scriptures remind believers that Heaven is the destination where their deceased loved ones will experience God's love and all of His promises are fulfilled.
By providing these words of comfort, God's Word helps grieving people find peace in knowing that their departed friends or family have found rest from suffering, sadness, and separation from them.
Ultimately, these bible verses give hope and healing during difficult times through the promise of an eternity with Jesus Christ.
"Do not marvel at this; for the hour is coming in which all who are in the graves will hear His voice and come forth—those who have done good, to the resurrection of life, and those who have done evil, to the resurrection of condemnation."
John 5:28-29 refers to the time of judgment that all people will be subject to. These verses are saying that those who have led a good life, living according to God's commandments, will receive eternal life and go on to enjoy the glory of Heaven after death.
Conversely, those who have done evil or have not followed the Lord's teachings will face condemnation and be held accountable for their actions before being sent away from Heaven and its glorious presence.
Taken together these two verses emphasize our need as humans to live righteously by following God's Word in order best prepare ourselves for eternity with Him in heaven.
1 Thessalonians 4:13-14
"But I do not want you to be ignorant, brethren, concerning those who have fallen asleep, lest you sorrow as others who have no hope. For if we believe that Jesus died and rose again, even so, God will bring with Him those who sleep in Jesus."
These two verses in Thessalonians remind us that Heaven is gloriously beautiful and filled with hope. Believers of Jesus pray to Him, trusting that He died and rose again, so we can be comforted by the fact He will bring our loved ones who have passed away into His kingdom.
In this way, although we may still grieve their loss in death, the hope of being reunited with them far outweighs our sorrow because those who belong to Jesus are blessed with everlasting life within eternity's glory.
Revelation 21:4
"And God will wipe away every tear from their eyes; there shall be no more death, nor sorrow, nor crying. There shall be no more pain, for the former things have passed away."
This verse speaks to the glory of Heaven as it describes a place without death, sorrow, crying, or pain. It paints a picture of eternal bliss and peace that will be available to those who have accepted Jesus Christ as their savior.
This sets up an eternity where all tears are wiped away by God and there is no more suffering associated with death, sadness, or emotional anguish. Instead, believers will experience true joy in the presence of God forevermore in Heaven's perfect state of divine love and peace.
2 Corinthians 5:1
"For we know that if our earthly house, this tent, is destroyed, we have a building from God, a house not made with hands, eternal in the heavens."
2 Corinthians 5:1 is a reference to the glory of Heaven, which Christians look forward to in their afterlife. Paul writes that our physical bodies are like tents, which will one day be destroyed; but when they do meet their end, we have something much more spectacular awaiting us, an eternal home prepared by God and not made with human hands.
This glorious understanding helps give comfort in times of difficulty and suffering as believers trust that if they have Jesus as Lord then there's an incredible existence ahead for them beyond this life.
Philippians 1:23
"For I am hard-pressed between the two, having a desire to depart and be with Christ, which is far better."
Philippians 1:23 is a reminder that there is something even better than the glory of Heaven here on earth, being with Christ in His presence. This passage proclaims that, although we may experience great joy in Heaven, nothing will be as wonderful as being united with God Himself.
Paul yearns to be taken away from this world and its troubles and into the loving arms of his Lord who has already promised him eternal life. The glory of Heaven cannot compare to the divine beauty he longs for when he thinks about joining Jesus forever; thus, Paul expresses a desire for death so that he can soon enter his true home in Christ's loving embrace.
Also Read: 27+ Husband and Wife Reunited in Heaven Bible Verse
A Prayer to Make Heaven
Father in Heaven,
I come before You with a humble heart, asking for Your guidance and wisdom. I know that it is in Heaven where true peace and happiness reside, and thus I long to reunite with You there one day.
Help me live my life to the fullest according to Your will for me; give me strength in order to serve others as You love them deeply; guide my actions on how best to become a beacon of joy throughout this world.
Let courage be present within me even when faced with difficulty or temptation, for as long as I keep faith that you are near, I can overcome any obstacle knowing you lend aid at all times In Jesus' name,
Amen