As a parent, it is our responsibility to set an example and give guidance to our children. The Bible offers many verses about how parents should go about doing this, and even reminds us that children are a blessing from God.
Today, we will discuss some of the key Bible verses that focus on what responsibilities parents have towards their kids and the importance of understanding these important lessons.
Bible Verse About Parents Responsibilities
Train Up Your Child in the Way He Should Go
Many Christian parents are familiar with the phrase "Train up your child in the way he should go," which is taken from Proverbs 22:6. This verse emphasizes the need for parents to teach their children good values and habits from a young age so that they will continue to follow them even when they are older. The wisdom of this verse has been passed down through generations as a reminder of the importance of good parenting.
Raising a child involves educating, nurturing, and guiding them to maturity. It is our responsibility as parents to provide our children with the necessary skills, moral values, and spiritual truths that will shape their future.
Training up a child is an integral part of this process and is essential for their growth and development.
Every child is unique and should be encouraged to follow the path that is best for them, rather than simply being given a set of rules to follow. We must nurture their interests and help them discover their God-given talents and passions, so that they can develop the skills necessary to achieve their dreams.
Raising a child is an ongoing process that spans their entire life, and requires constant effort from parents. Through setting a good example, and providing a supportive and loving atmosphere, parents can ensure that their child can develop into an independent and successful adult.
The promise that "even when he is old, he will not depart from it" implies that the effects of our parenting are much more significant than just our children's childhood.
Through teaching our kids the correct values and principles, we are providing them with a strong base that will help them face the difficulties of adulthood and ultimately lead them to a life that is both meaningful and fulfilling.
Proverbs 22:6
"Train up a child in the way he should go: and when he is old, he will not depart from it."
Deuteronomy 6:6-7
"And these words that I command you today shall be on your heart. You shall teach them diligently to your children, and shall talk of them when you sit in your house, and when you walk by the way, and when you lie down, and when you rise."
Ephesians 6:4
"Fathers, do not provoke your children to anger, but bring them up in the discipline and instruction of the Lord."
Proverbs 19:18
"Discipline your son, for there is hope; do not set your heart on putting him to death."
Proverbs 29:17
"Discipline your son, and he will give you rest; he will give delight to your heart."
Also Read: 22 Bible Verses About Parents Love
Show Love and Compassion
It is essential for parents to demonstrate love and compassion for their children. Parenting can be difficult and overwhelming at times, but taking the time to show love and empathy to our kids can have a major impact on their lives.
By demonstrating love and compassion, we can support our children even when times are tough. We should be attentive to their needs, providing aid and motivation, and helping them make it through tough times. We must stay level-headed, compassionate, and tolerant, even if we don't approve of their decisions or actions.
By demonstrating love and compassion towards our children, we create a supportive and caring atmosphere that allows them to reach their full potential. Furthermore, we can use this as an opportunity to impart important values such as empathy, kindness, and forgiveness.
Our actions as parents play an invaluable role in shaping our children's behavior; when we make it a point to be emotionally present and express affection regularly, our kids will likely emulate this behavior and be more understanding of those around them.
As parents, we have the privilege of reflecting God's love to our children through being kind and showing compassion. The Bible instructs us that God is compassionate, gracious, slow to anger and abounding in love (Psalm 103:8). By embodying this same character of grace to our kids, we can demonstrate a reflection of our Heavenly Father's love.
Colossians 3:21
"Fathers, do not provoke your children, lest they become discouraged."
1 Thessalonians 2:7-8
"But we were gentle among you, like a nursing mother taking care of her own children. So, being affectionately desirous of you, we were ready to share with you not only the gospel of God but also our own selves, because you had become very dear to us."
Psalm 103:13
"As a father shows compassion to his children, so the Lord shows compassion to those who fear him."
Proverbs 13:24
"Whoever spares the rod hates his son, but he who loves him is diligent to discipline him."
Proverbs 22:15
"Folly is bound up in the heart of a child, but the rod of discipline drives it far from him."
Be an Example of Godly Living
Being a parent is undoubtedly one of the most challenging, yet rewarding, roles in life. As parents, we have not only the responsibility but also the privilege of raising our children to develop godly character and contribute positively to society. One of the best ways we can do this is by setting an example with our own godly conduct.
It is essential for parents to demonstrate the values and teachings of the Bible through their everyday actions as children are more likely to learn from their parents' behavior than from what they hear their parents say.
As parents, it is essential that we develop our own personal relationship with God. We should devote time to praying and reading the Bible in order to deepen our knowledge of who He is and what He wants from us. When we build a strong connection with God, our lives are changed for the better and give us the strength to live out our faith through everyday actions.
In order to be a godly example to our children, we need to be intentional in our interactions with them. We must extend love, grace and forgiveness, just as God has done for us. We should strive to act kindly and patiently even when coping with difficult problems.
Additionally, it is important that we are honest and humble both in facing complex parenting issues as well as recognizing that only the wisdom of God will guide us through life's challenges.
By setting an example of godly living, we can teach our children the power and beauty of fully surrendering to God. This will foster trust in God's goodness and faithfulness, inspiring them to seek after Him in their own lives.
As parents, it is our obligation to raise our children according to His ways – and demonstrating a life of devotion is key in that effort.
1 Corinthians 11:1
"Be imitators of me, as I am of Christ."
Proverbs 20:7
"The righteous who walks in his integrity—blessed are his children after him!"
3 John 1:4
"I have no greater joy than to hear that my children are walking in the truth."
Titus 2:7-8
"Show yourself in all respects to be a model of good works, and in your teaching show integrity, dignity, and sound speech that cannot be condemned, so that an opponent may be put to shame, having nothing evil to say about us."
"In the same way, let your light shine before others, so that they may see your good works and give glory to your Father who is in heaven."
Provide for Your Family
As a parent, it is your responsibility to make sure your children have what they need to survive and thrive. This means providing them with food, shelter, clothing, and educational resources in order to meet their physical needs. It also includes providing emotional stability and support so that they can develop mentally and emotionally. Taking care of your family is an essential part of being a responsible parent.
Ensuring the well-being of your family involves not just taking care of their current needs but also preparing for their future. As a parent, it is important to create a secure and stable atmosphere for your children so that they can develop into mature adults. This requires making prudent financial decisions, like budgeting, saving, and investing funds correctly in order to ensure your family's present and future needs are looked after.
It is the responsibility of a parent to impart to your children the importance of hard work and a strong work ethic. Show them how pursuing education and developing their skills will lead to success through financial stability. In doing so, you will set them up with the knowledge they need to live independently as adults.
Ensuring the wellbeing of your family is not just a financial obligation, but also involves investing your time and energy into establishing strong bonds with your kids. This entails being present and accessible to them, attentively listening to them, and giving them advice and backing as they deal with life's obstacles.
1 Timothy 5:8
"But if anyone does not provide for his relatives, and especially for members of his household, he has denied the faith and is worse than an unbeliever."
Proverbs 19:14
"House and wealth are inherited from fathers, but a prudent wife is from the Lord."
Proverbs 27:23-27
"Know well the condition of your flocks, and give attention to your herds, for riches do not last forever; and does a crown endure to all generations? When the grass is gone and the new growth appears and the vegetation of the mountains is gathered, the lambs will provide your clothing, and the goats the price of a field. There will be enough goats' milk for your food, for the food of your household and maintenance for your girls."
2 Corinthians 12:14
"Here for the third time I am ready to come to you. And I will not be a burden, for I seek not what is yours but you. For children are not obligated to save up for their parents, but parents for their children."
Also Read: 25 Bible Verses About Brotherly Love
Teach Your Children to Fear God
As parents, one of our most essential duties is to instruct our children to revere and admire God. This involves instilling in them a sense of awe and respect for the Lord, as well as aiding them to comprehend His traits and teachings.
It is important for us to exhibit a reverent and devoted love of God in order to teach our children to fear Him. We can serve as examples by engaging in frequent prayer and biblical study, attending church faithfully, and carrying out our faith through action in everyday life. Our children learn from us, so it is essential that we strive to lead lives that reflect our belief in God.
We can help our children develop a deeper understanding and appreciation of God by modeling godly behavior, explaining the consequences of sin, highlighting the importance of repentance and forgiveness, introducing them to God's grace and mercy, and demonstrating how much He loves us through Jesus Christ's sacrifice.
Disciplining our children out of love is essential in teaching them to fear God. We must set boundaries and be consistent in enforcing consequences when they disobey. While providing discipline, it's important to keep the goal of guiding our children towards righteousness uppermost in mind.
By nurturing our children's relationship with God, we can help them to cultivate a reverent awe and respect for Him. As we guide and pray for them on their spiritual journey, may the Lord work in their hearts and lives in order to provide them with a strong basis of faith that will sustain them throughout their lives. Ultimately, teaching our children to fear God is an invaluable lesson that encourages faithfulness and service to Him.
Proverbs 9:10
"The fear of the Lord is the beginning of wisdom, and the knowledge of the Holy One is insight."
Psalm 34:11
"Come, O children, listen to me; I will teach you the fear of the Lord."
Deuteronomy 6:1-2
"Now this is the commandment—the statutes and the rules—that the Lord your God commanded me to teach you, that you may do them in the land to which you are going over, to possess it, that you may fear the Lord your God, you and your son and your son's son, by keeping all his statutes and his commandments, which I command you, all the days of your life, and that your days may be long."
Proverbs 1:7
"The fear of the Lord is the beginning of knowledge; fools despise wisdom and instruction."
Psalm 78:4-7
"We will not hide them from their children, but tell to the coming generation the glorious deeds of the Lord, and his might, and the wonders that he has done. He established a testimony in Jacob and appointed a law in Israel, which he commanded our fathers to teach to their children, that the next generation might know them, the children yet unborn, and arise and tell them to their children, so that they should set their hope in God and not forget the works of God, but keep his commandments."
Also Read: 23+ Bible Verses About Sadness (With Commentary)
Discipline Your Children with Love
As parents, it is our responsibility to instill discipline in our children. By doing this, we are helping them understand the difference between good and bad behavior and develop their self-control and sense of responsibility. But such discipline should always be done with kindness, sympathy, and an intention to assist our children grow up in a healthy way.
Discipline should not be used as an opportunity to express anger or show dominance over our children. Instead, it should be seen as an instrument for guiding them towards making more positive choices, forming good habits and building strong character. Forms of discipline can include verbal reminders, time-outs, grounding and physical punishment; however, these measures must be carried out in a fair and balanced way.
In order to effectively discipline, it is essential to establish clear boundaries and expectations and hold our children accountable for their actions by consistently applying consequences when necessary. This must be done with an attitude of respect and understanding, combined with a willingness to hear our children's perspective and use it as an opportunity for growth.
Disciplining with love involves expressing our love and acceptance of our children, even when disciplining their behavior. We use non-abusive language and methods, seeking to better understand what motivates them or causes them difficulty. As we aim for positive solutions, these approaches will also garner respect for ourselves as parents and build up a strong bond of trust between us and our children.
In order to foster responsible, compassionate, and loving adults, it is essential that we as parents exemplify the behavior we want our children to adopt. We must demonstrate respectful communication and a control over our emotions in all situations while also teaching them how to make wise decisions. By disciplining with love, we can equip our children with the skills they need for adulthood.
Proverbs 13:24
"Whoever spares the rod hates his son, but he who loves him is diligent to discipline him."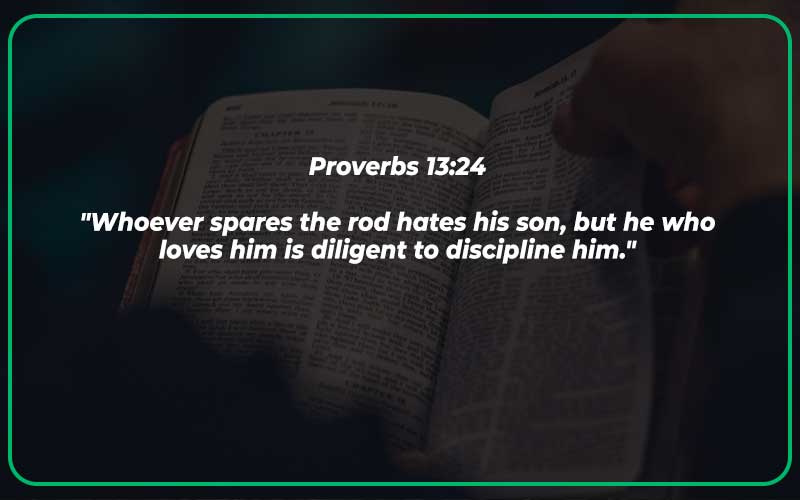 Hebrews 12:11
"For the moment all discipline seems painful rather than pleasant, but later it yields the peaceful fruit of righteousness to those who have been trained by it."
Proverbs 22:15
"Folly is bound up in the heart of a child, but the rod of discipline drives it far from him."
Proverbs 23:13-14
"Do not withhold discipline from a child; if you strike him with a rod, he will not die. If you strike him with the rod, you will save his soul from Sheol."
Ephesians 6:4
"Fathers, do not provoke your children to anger, but bring them up in the discipline and instruction of the Lord."
Also Read: 30 Must-Read Bible Verses About Emotions
Final Thoughts – Bible Verse About Parents Responsibilities
In conclusion, parenting is a divine responsibility that comes with great rewards. It calls for us to utilize love, patience, and wisdom in our mothering or fathering. To aid us in raising respectful children who love God and obey His commands, we must turn to the Bible for guidance and direction.
The Bible's verses on parenting responsibility help remind us of the importance of growing our children into strong individuals with good character. We must also remember that discipline should be done out of love and by showing them acceptable behaviors through example.
When all these components come together we can raise kids graced with humility while striving to honor God's mandate, no matter how difficult it may seem at times, ultimately resulting in gratifying accomplishment as parents knowing that we have fulfilled this huge yet rewarding task that God has given us!