Comparison can be a detrimental habit that robs us of joy and contentment. The Bible offers guidance on how to break free from the trap of comparison and find true fulfillment in our unique identities in Christ.
In this blog post, we will explore a compilation of Bible verses that shed light on the dangers of comparison, encourage self-acceptance, and inspire us to embrace our individuality with gratitude and purpose.
Also Read: Bible Verses About Nature
Bible Verses About Comparison
2 Corinthians 10:12
"Not that we dare to classify or compare ourselves with some of those who are commending themselves. But when they measure themselves by one another and compare themselves with one another, they are without understanding."
Comparing oneself with others can lead to a distorted perception of self and others. Paul encourages the Corinthians to avoid this practice and instead focus on their own God-given gifts and calling.
Galatians 6:4-5
"But let each one test his own work, and then his reason to boast will be in himself alone and not in his neighbor. For each will have to bear his own load."
While it may be tempting to compare our work with that of others, this verse reminds us that we are responsible for our own actions and outcomes. We should strive to do our best without seeking validation or recognition from others.
Proverbs 14:30
"A tranquil heart gives life to the flesh, but envy makes the bones rot."
Comparison can often lead to envy and jealousy, which can have negative effects on both our physical and emotional well-being. This verse reminds us to cultivate inner peace and let go of comparisons with others.
Philippians 2:3
"Do nothing from rivalry or conceit, but in humility count others more significant than yourselves."
Comparing ourselves with others can often lead to feelings of rivalry and competition. This verse reminds us to cultivate humility and treat others with respect and honor, rather than seeking to outdo them.
James 3:16
"For where jealousy and selfish ambition exist, there will be disorder and every vile practice."
Comparison can sometimes lead to feelings of jealousy and selfish ambition, which can have negative consequences for ourselves and those around us. This verse warns us of the dangers of these feelings and encourages us to focus on living in love and peace.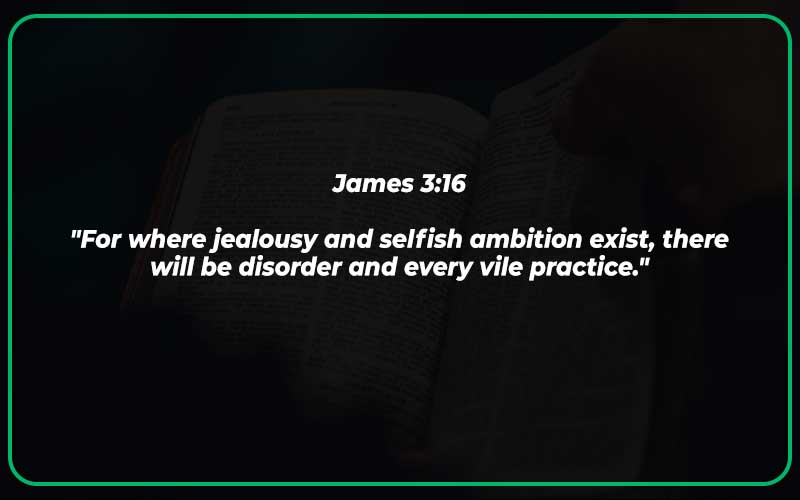 1 Corinthians 11:26-30
"For as often as you eat this bread and drink the cup, you proclaim the Lord's death until he comes. Whoever, therefore, eats the bread or drinks the cup of the Lord in an unworthy manner will be guilty concerning the body and blood of the Lord. Let a person examine himself, then, and so eat of the bread and drink of the cup. For anyone who eats and drinks without discerning the body eats and drinks judgment on himself. That is why many of you are weak and ill, and some have died."
Comparing ourselves with others can lead to a lack of self-reflection and examination, which can have serious implications for our spiritual health. This verse reminds us to examine ourselves before partaking in the Lord's supper, and to avoid partaking in an unworthy manner.
Hebrews 13:5
"Keep your life free from love of money, and be content with what you have, for he has said, 'I will never leave you nor forsake you.'"
Comparison can sometimes lead to a desire for more possessions or wealth, leading us away from contentment and towards a love of money. This verse reminds us that true security and contentment come from God's presence, rather than material possessions.
Romans 12:3
"For by the grace given to me I say to everyone among you not to think of himself more highly than he ought to think, but to think with sober judgment, each according to the measure of faith that God has assigned."
Comparison can sometimes lead to inflated opinions of ourselves, as we seek to outdo others. This verse reminds us to have a sober judgment of ourselves and our abilities, recognizing that our faith and gifts come from God.
1 Peter 5:5-6
"Likewise, you who are younger, be subject to the elders. Clothe yourselves, all of you, with humility toward one another, for 'God opposes the proud but gives grace to the humble.' Humble yourselves, therefore, under the mighty hand of God so that at the proper time he may exalt you."
Comparison can sometimes lead to a lack of humility and a desire for recognition or status. This verse reminds us to cultivate humility towards one another, recognizing our need for each other and for God's grace.
Philippians 4:11-13
"Not that I am speaking of being in need, for I have learned in whatever situation I am to be content. I know how to be brought low, and I know how to abound. In any and every circumstance, I have learned the secret of facing plenty and hunger, abundance and need. I can do all things through him who strengthens me."
Comparison can sometimes lead to a lack of contentment and a desire for more. This verse reminds us that we can be content in any situation, knowing that God will strengthen us and provide for our needs.
Matthew 7:1-5
"Judge not, that you be not judged. For with the judgment you pronounce you will be judged, and with the measure you use it will be measured to you. Why do you see the speck that is in your brother's eye, but do not notice the log that is in your own eye? Or how can you say to your brother, 'Let me take the speck out of your eye,' when there is the log in your own eye? You hypocrite, first take the log out of your own eye, and then you will see clearly to take the speck out of your brother's eye."
Comparison can sometimes lead to judgment and criticism of others. This verse reminds us to avoid this practice and to focus on addressing our own faults and shortcomings before attempting to help others.
Proverbs 17:3
"The crucible is for silver, and the furnace is for gold, and the LORD tests hearts."
Comparison can sometimes reveal the true motivations and desires of our hearts. This verse reminds us that God tests our hearts, refining us as silver and gold are refined in a crucible and furnace.
1 Corinthians 4:6-7
"I have applied all these things to myself and Apollos for your benefit, brothers, that you may learn by us not to go beyond what is written, that none of you may be puffed up in favor of one against another. For who sees anything different in you? What do you have that you did not receive? If then you received it, why do you boast as if you did not receive it?"
Comparison can sometimes lead to feelings of superiority or inferiority towards others. This verse reminds us that everything we have, including our gifts and abilities, comes from God and we should not boast or feel superior to others because of them.
1 Timothy 6:6-8
"But godliness with contentment is great gain, for we brought nothing into the world, and we cannot take anything out of the world. But if we have food and clothing, with these we will be content."
Comparison can sometimes lead to a focus on material possessions rather than spiritual growth and contentment. This verse reminds us that godliness with contentment is of great value, and that our basic needs for food and clothing should be sufficient for contentment.
Proverbs 27:4
"Wrath is cruel, anger is overwhelming, but who can stand before jealousy?"
Comparison can sometimes lead to feelings of jealousy, which can be overpowering and destructive. This verse reminds us of the dangers of jealousy and the need to guard our hearts against it.
Galatians 5:26
"Let us not become conceited, provoking one another, envying one another."
Comparison can sometimes lead to conceit and envy towards others. This verse reminds us to avoid these behaviors, which can lead to conflict and division among believers.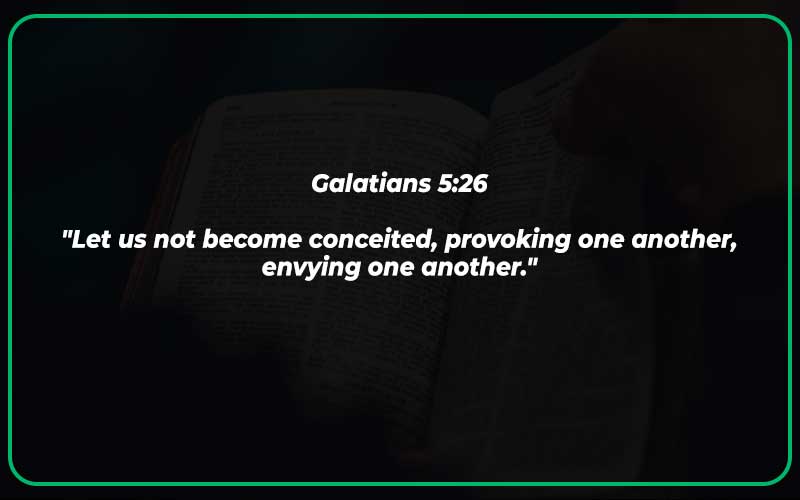 James 2:1-4
"My brothers, show no partiality as you hold the faith in our Lord Jesus Christ, the Lord of glory. For if a man wearing a gold ring and fine clothing comes into your assembly, and a poor man in shabby clothing also comes in, and if you pay attention to the one who wears the fine clothing and say, "You sit here in a good place," while you say to the poor man, "You stand over there," or, "Sit down at my feet," have you not then made distinctions among yourselves and become judges with evil thoughts?"
Comparison can sometimes lead to partiality and favoritism towards certain individuals or groups. This verse reminds us to avoid such behavior, which can lead to division and disharmony within the church community.
What Does the Bible Say About Comparison?
In the Bible, the concept of comparison is addressed in various ways, cautioning believers about its potential pitfalls and offering guidance on how to approach it. The Scriptures discourage excessive comparison with others, as it can lead to envy, jealousy, pride, and discontentment. Comparing ourselves to others may cause us to either feel superior or inferior, fostering unhealthy attitudes and behaviors.
One common theme found throughout the Bible is the call for believers to focus on their unique identities and gifts given by God. In Galatians 6:4-5, the Apostle Paul advises, "Each one should test their own actions.
Then they can take pride in themselves alone, without comparing themselves to someone else, for each one should carry their own load." Similarly, in Psalm 139:14, it is acknowledged that we are "fearfully and wonderfully made" by God, implying that each individual has inherent value and purpose.
Moreover, the Bible encourages followers of Christ to pursue humility and contentment rather than comparing themselves to others. Philippians 2:3 advises, "Do nothing out of selfish ambition or vain conceit.
Rather, in humility value others above yourselves." This verse highlights the importance of not seeking to elevate ourselves through comparison but instead to demonstrate love and respect for others.
Jesus himself taught against comparison and covetousness in the Parable of the Workers in the Vineyard (Matthew 20:1-16). The parable illustrates God's grace and fairness, irrespective of when individuals enter into His service. It reminds us that God's blessings and gifts are not distributed based on comparison but according to His divine plan and will.
In summary, while the Bible does not explicitly prohibit all forms of comparison, it consistently warns against its negative consequences and promotes contentment, humility, and a focus on one's unique identity and purpose in God's plan. Rather than looking to others and comparing ourselves, the Scriptures encourage us to fix our eyes on God, seek His guidance, and grow in love and service towards others.