Mourning is an integral part of the human experience, and the Bible offers solace and comfort during times of grief. In this blog post, we will explore a selection of Bible verses that address the topic of mourning.
These verses will provide hope, encouragement, and guidance as we navigate the complex emotions associated with loss.
Whether you're seeking solace for yourself or supporting someone in their time of mourning, these verses will serve as a beacon of light in the darkness, reminding us of the healing power of faith.
Also Read: Bible Verses About The Word Of God
Bible Verses About Mourning
Matthew 5:4
"Blessed are those who mourn, for they shall be comforted."
Jesus speaks to the crowd in the Sermon on the Mount, declaring that those who are grieving and mourning will be blessed and comforted by God Himself.
Psalm 34:18
"The LORD is close to the brokenhearted and saves those who are crushed in spirit."
The psalmist acknowledges the pain and devastation of a broken heart, but also recognizes that the Lord is near and offers salvation through that pain.
Isaiah 61:2-3
"…to comfort all who mourn, and provide for those who grieve… to bestow on them a crown of beauty instead of ashes."
Isaiah speaks of the mission of the appointed servant of the Lord, to bring comfort and beauty to those who are mourning and grieving.
Lamentations 3:31-33
"For the Lord will not reject forever. He may cause grief but He will have compassion according to the abundance of His steadfast love."
The prophet Jeremiah laments the destruction of Jerusalem but also acknowledges the compassion and love of the Lord, which will not last forever.
Revelation 21:4
"He will wipe every tear from their eyes. There will be no more death or mourning or crying or pain, for the old order of things has passed away."
John's vision of the new heaven and earth depicts the ultimate end of mourning and pain, where God Himself wipes away every tear and restores all things.
Psalm 30:5
"Weeping may stay for the night, but rejoicing comes in the morning."
The psalmist acknowledges the temporary nature of mourning and weeping, believing that there will come a time of joy and rejoicing in the morning.
John 14:27
"Peace I leave with you; my peace I give you… Do not let your hearts be troubled and do not be afraid."
Jesus speaks to His disciples, offering them His peace in the midst of troubled and grieving hearts.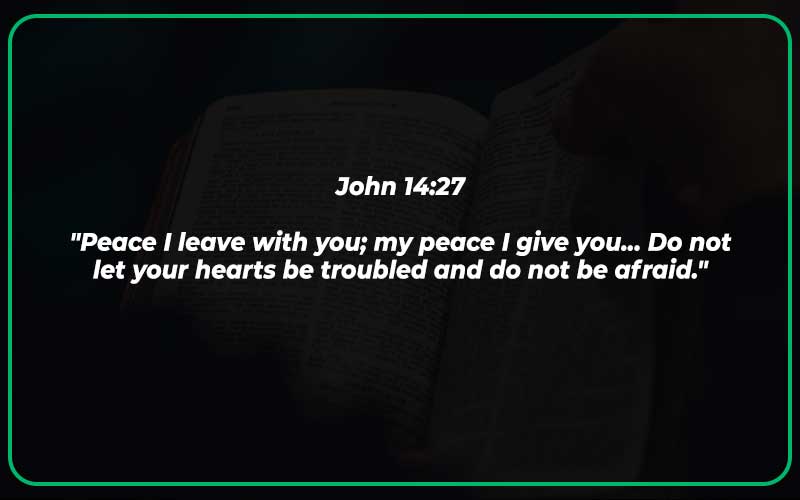 Psalm 31:9
"Be merciful to me, LORD, for I am in distress; my eyes grow weak with sorrow, my soul and body with grief."
The psalmist cries out to the Lord in distress and acknowledges the physical and emotional toll that sorrow and grief can take.
Psalm 119:28
"My soul is weary with sorrow; strengthen me according to your word."
The psalmist turns to God's word for strength and comfort in the midst of their deep sorrow.
Psalm 126:5
"Those who sow with tears will reap with songs of joy."
The psalmist describes the process of sowing and reaping, acknowledging the difficult and tearful times that precede the eventual harvest of joy and celebration.
Isaiah 53:3-4
"He was despised and rejected by mankind, a man of suffering, and familiar with pain. Like one from whom people hide their faces he was despised, and we held him in low esteem. Surely he took up our pain and bore our suffering, yet we considered him punished by God, stricken by him, and afflicted."
Isaiah prophesies about the suffering servant who will bear the pain and sorrow of the people, ultimately taking it upon Himself on the cross.
Psalm 42:11
"Why, my soul, are you downcast? Why so disturbed within me? Put your hope in God, for I will yet praise him, my Savior and my God."
The psalmist acknowledges the state of their downcast soul, but also turns to the hope and salvation that comes from praising God.
2 Corinthians 1:3-4
"Praise be to the God and Father of our Lord Jesus Christ, the Father of compassion and the God of all comfort, who comforts us in all our troubles, so that we can comfort those in any trouble with the comfort we ourselves receive from God."
Paul speaks to the Corinthians, acknowledging the comfort and compassion of God, which equips us to offer comfort to others in their mourning and grief.
Ruth 1:20-21
"'Don't call me Naomi,' she told them. 'Call me Mara, because the Almighty has made my life very bitter. I went away full, but the Lord has brought me back empty. Why call me Naomi? The Lord has afflicted me; the Almighty has brought misfortune upon me.'"
Ruth's mother-in-law Naomi laments the bitter and difficult experiences of her life, acknowledging that it was the Lord who had brought her through them.
Psalm 55:22
"Cast your cares on the Lord and He will sustain you; He will never let the righteous be shaken."
The psalmist exhorts believers to entrust their cares and burdens to the Lord, who will sustain and carry them through all their mourning and grief.
Job 13:15
"Though He slay me, yet will I hope in Him; I will surely defend my ways to His face."
Job, in the midst of his great suffering, declares his unwavering hope and trust in God, even in the face of death itself.
Psalm 34:15
"The eyes of the LORD are on the righteous, and His ears are attentive to their cry."
The psalmist asserts that the Lord hears and attends to the cries of the righteous, even in the midst of their mourning and distress.
Psalm 116:15
"Precious in the sight of the Lord is the death of His faithful servants."
The psalmist offers a perspective on death and mourning, declaring that the Lord treasures the lives and souls of His faithful servants even in death.
Isaiah 57:1-2
"The righteous perish, and no one takes it to heart; the devout are taken away, and no one understands that the righteous are taken away to be spared from evil. Those who walk uprightly enter into peace; they find rest as they lie in death."
Isaiah reflects on the purpose and outcome of the righteous passing away, recognizing that they enter into peace and find rest from evil.
Psalm 119:50
"My comfort in my suffering is this: Your promise preserves my life."
The psalmist draws their comfort and strength from the promises of God's word, which has the power to preserve and sustain their life even in the midst of suffering.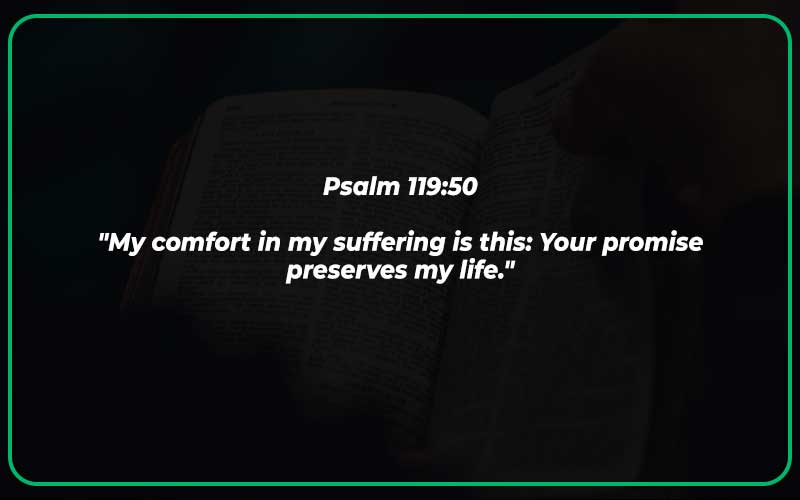 Psalm 73:26
"My flesh and my heart may fail, but God is the strength of my heart and my portion forever."
The psalmist acknowledges the frailty and failure of human flesh and heart, but also asserts the eternal strength and provision of God Himself.
Job 5:11
"He sets on high those who are lowly, and those who mourn are lifted to safety."
Job's friend Eliphaz speaks to the power of God's providence and care for those who are lowly and mourning, lifting them up to safety and redemption.
What verse is time for mourning?
The verse that speaks of the importance of mourning is found in Ecclesiastes 3:4 (NIV):
"A time to weep and a time to laugh, a time to mourn and a time to dance."
This verse reminds us that mourning is a natural part of life, just as laughter and joy are. We shouldn't suppress our grief but allow ourselves to mourn and find healing in due time.
What is the most comforting Bible verse?
One of the most well-known and comforting verses in the Bible is found in Matthew 11:28-30 (NIV):
"Come to me, all you who are weary and burdened, and I will give you rest. Take my yoke upon you and learn from me, for I am gentle and humble in heart, and you will find rest for your souls. For my yoke is easy, and my burden is light."
This verse shows the compassion and love of Jesus, inviting those who are burdened and overwhelmed to find rest and comfort in Him. It reminds us that we don't have to carry our sorrows alone; we can find peace and solace in the presence of the Savior.
What is a comforting Bible verse for sadness?
When facing sadness and despair, one of the most reassuring verses can be found in Psalm 34:18 (NIV):
"The Lord is close to the brokenhearted and saves those who are crushed in spirit."
This verse assures us that God is near to those who are brokenhearted and that He actively saves and supports those who feel crushed by life's challenges. It reminds us that we can turn to God in our sadness, and He will provide comfort and strength.
What God promises to the brokenhearted?
Isaiah 61:1-2 (NIV) brings a powerful promise of healing and restoration to the brokenhearted:
"The Spirit of the Sovereign Lord is on me because the Lord has anointed me to proclaim good news to the poor. He has sent me to bind up the brokenhearted, to proclaim freedom for the captives and release from darkness for the prisoners, to proclaim the year of the Lord's favor and the day of vengeance of our God, to comfort all who mourn."
In this verse, we see a prophecy about the Messiah, Jesus Christ. It promises that He will come to bind up the brokenhearted, bring freedom to those in captivity, and comfort those who mourn. It highlights God's love and concern for those who are hurting and struggling, offering hope for restoration and deliverance.
Conclusion
In times of mourning, sadness, and brokenness, the Bible offers a wealth of comforting verses to turn to for strength and solace. These verses remind us that God is near to the brokenhearted, and He offers healing, comfort, and hope in the midst of our pain.
By meditating on His Word and seeking His presence, we can find the strength to endure, the courage to face our challenges, and the assurance that we are deeply loved and cared for. May these comforting verses be a source of comfort and encouragement to all who read them.