In a world filled with turmoil and uncertainty, finding peace of mind is a deep longing of the human heart. The Bible offers solace and guidance, pointing us towards the true source of lasting peace.
Join me as we delve into Scripture, exploring comforting Bible verses about peace of mind, and discovering the transformative power of entrusting our worries to God's loving care and resting in the assurance of His peace that surpasses all understanding.
Also Read: Bible Verses About the Enemy
Bible Verses About Peace of Mind
John 14:27
"Peace I leave with you; my peace I give you. I do not give to you as the world gives. Do not let your hearts be troubled and do not be afraid."
Jesus gave his disciples and all believers the gift of peace. This peace transcends all understanding and is not dependent on external circumstances. Christians can have peace of mind in the midst of chaos or difficulty because they have faith in Jesus' promises.
Philippians 4:6-7
"Do not be anxious about anything, but in every situation, by prayer and petition, with thanksgiving, present your requests to God. And the peace of God, which transcends all understanding, will guard your hearts and your minds in Christ Jesus."
When faced with worry and anxiety, Christians can find peace of mind through prayer and thanksgiving to God. The peace that comes from a deep and trusting relationship with God surpasses all human understanding and helps to guard our hearts and minds against fear.
Isaiah 26:3
"You will keep in perfect peace those whose minds are steadfast, because they trust in you."
When our minds are firmly anchored to God through trust and faith, we can experience perfect peace. This peace comes from the assurance that God is in control and is always working for our good, even in difficult situations.
Colossians 3:15
"Let the peace of Christ rule in your hearts, since as members of one body you were called to peace. And be thankful."
As members of the body of Christ, we are called to live in peace with one another. The peace of Christ should rule in our hearts, which can only happen when we choose to let go of our own selfish desires and embrace a life that promotes love, grace, and harmony.
Psalm 29:11
"The LORD gives strength to his people; the LORD blesses his people with peace."
God gives his people the strength to face whatever challenges come their way, and he blesses them with the gift of peace. This peace enables us to face difficult circumstances with grace and perseverance, knowing that God is always with us and working for our good.
Matthew 11:28-29
"Come to me, all you who are weary and burdened, and I will give you rest. Take my yoke upon you and learn from me, for I am gentle and humble in heart, and you will find rest for your souls."
When we are weary and burdened, Jesus invites us to come to him for rest and peace. As we learn from him and embrace his gentle and humble spirit, we find true rest and peace of mind that cannot be found anywhere else.
Psalm 4:8
"In peace I will lie down and sleep, for you alone, LORD, make me dwell in safety."
Because of our trust in the Lord, we can have peace of mind even in the midst of danger or uncertainty. This peace enables us to rest and sleep peacefully, knowing that the Lord is with us and watching over us.
Isaiah 41:10
"So do not fear, for I am with you; do not be dismayed, for I am your God. I will strengthen you and help you; I will uphold you with my righteous right hand."
God promises to be with us even in the worst of times. His strength and guidance is always available to those who trust in him, and he promises to support us with his righteous right hand.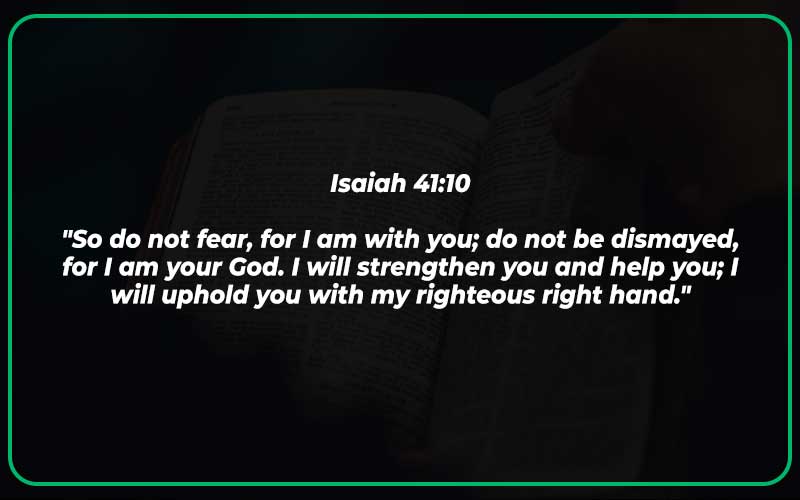 Psalm 55:22
"Cast your cares on the LORD and he will sustain you; he will never let the righteous be shaken."
When we give our cares and worries to the Lord, he promises to sustain us and keep us from being shaken. This peace of mind comes from our trust in God's faithfulness and the knowledge that he will never let us go.
Romans 8:6
"The mind governed by the flesh is death, but the mind governed by the Spirit is life and peace."
When we focus on our own fleshly desires, we experience anxiety and discord. However, when we choose to be governed by the Spirit of God, we experience true life and peace of mind that comes from a deep connection with God.
Psalm 119:165
"Great peace have those who love your law, and nothing can make them stumble."
Those who love God's law can experience great peace, knowing that they are living in accordance with God's will. This peace enables them to walk in confidence, even when faced with difficult trials or temptations.
John 16:33
"I have told you these things, so that in me you may have peace. In this world you will have trouble. But take heart! I have overcome the world."
Jesus promises us peace in the midst of worldly troubles. His overcoming power and love enable us to face any circumstance with confidence, knowing that he is with us always.
2 Thessalonians 3:16
"Now may the Lord of peace himself give you peace at all times and in every way. The Lord be with all of you."
As the Lord of peace, God promises to give us peace at all times and in every way. This peace comes from our trust in him and enables us to navigate life's challenges with grace and perseverance.
Psalm 119:50
"My comfort in my suffering is this: Your promise preserves my life."
When we are suffering, God's promises can bring us comfort and peace of mind. We can find hope and assurance in his unfailing love and care for us.
Isaiah 48:18
"If only you had paid attention to my commands, your peace would have been like a river, your well-being like the waves of the sea."
When we live in obedience to God's commands, we can experience peace that flows like a river. This peace brings abundant well-being and joy to our lives.
Psalm 85:8
"I will listen to what God the LORD says; he promises peace to his people, his faithful servants—but let them not turn to folly."
God promises peace to his faithful servants when we listen to him and trust in him. This peace is only available to those who follow God's commands and avoid foolishness.
Proverbs 14:30
"A heart at peace gives life to the body, but envy rots the bones."
When we have peace in our hearts and minds, it can have a positive impact on our physical health and well-being. This peace comes from a deep and abiding trust in God's unfailing love and presence in our lives.
Matthew 5:9
"Blessed are the peacemakers, for they will be called children of God."
Those who actively seek to promote peace and harmony in the world are blessed and called children of God. This peace-making attitude enables us to live in closer relationship with God and helps to make the world a better place.
Psalm 119:93
"I will never forget your precepts, for by them you have preserved my life."
By keeping our minds focused on God's precepts and promises, we can experience peace that enables us to navigate life's challenges with confidence and perseverance.
Hebrews 13:5-6
"Keep your lives free from the love of money and be content with what you have, because God has said, 'Never will I leave you; never will I forsake you.' So we say with confidence, 'The Lord is my helper; I will not be afraid. What can mere mortals do to me?'"
When we trust in God's faithfulness and provision, we can experience contentment and peace of mind. Nothing in this world can shake us when our trust is firmly rooted in God's abiding love and care for us.
What does the bible say About Peace of Mind?
The Bible speaks extensively about peace of mind, emphasizing the importance of finding tranquility and inner calm amid life's challenges. It encourages believers to trust in God and surrender their anxieties to Him, knowing that He is in control and cares for them.
The concept of peace of mind in the Bible encompasses several key themes:
1. Trust in God's Sovereignty
The Bible urges individuals to place their trust in God's sovereignty and providence. Believers are encouraged to cast their burdens upon Him and refrain from worrying about the uncertainties of life. By acknowledging God's authority, people can experience peace of mind, knowing that He is in charge of their circumstances.
2. God's Promises of Peace
The Scriptures contain numerous promises of peace from God to His people. These assurances serve as a source of comfort and assurance during challenging times. Through faith in these promises, individuals can find solace and confidence, knowing that God is faithful and will grant them peace of mind.
3. Freedom from Anxiety
The Bible acknowledges the reality of human anxieties and worries but advises against allowing them to consume one's life. Instead, it encourages people to present their worries to God through prayer and supplication, which leads to a transcendent peace that surpasses human understanding.
4. Focus on God's Word
The Bible teaches that meditating on God's Word and filling one's mind with His truth contributes to peace of mind. By anchoring their thoughts and hearts in the Scriptures, believers can find stability and serenity in the midst of life's storms.
5. Love and Forgiveness
The Bible emphasizes the significance of love and forgiveness in fostering peace of mind. By extending love and forgiveness to others, individuals can experience freedom from bitterness and strife, leading to a sense of peace within themselves and in their relationships.
6. Contentment and Gratitude
The Bible encourages contentment and gratitude as essential elements for peace of mind. Learning to be thankful for what one has, rather than focusing on what they lack, promotes a sense of satisfaction and tranquility.
In summary, the Bible teaches that peace of mind comes from trusting in God, embracing His promises, surrendering anxieties in prayer, and focusing on His truth and love. Through these principles, believers can experience a profound sense of inner peace even in the midst of life's trials and tribulations.