Discovering our purpose in life is a quest that resonates with every human heart. We long for meaning, direction, and a sense of fulfillment. The Bible offers profound insights into purpose and provides guidance for discovering and embracing our unique calling.
Join me as we explore inspiring Bible verses about purpose, seeking wisdom from God's Word and finding clarity in our identity and mission. Together, let's uncover the extraordinary purpose God has designed for each of us and live lives of significance and impact.
Also Read: Bible Verses About Unity
Bible Verses About Purpose
Ephesians 2:10
"For we are His workmanship, created in Christ Jesus for good works, which God prepared beforehand, that we should walk in them."
This verse reminds us that each one of us was intentionally created by God for a specific purpose. God has already prepared good works for us to do, and it is up to us to walk in them and fulfill our purpose on this earth.
Proverbs 16:4
"The Lord has made everything for its purpose, even the wicked for the day of trouble."
Even those who are deemed wicked by society have a purpose in God's plan. This verse reminds us that everything and everyone has a purpose and that God has a plan for it all.
Jeremiah 29:11
"For I know the plans I have for you, declares the Lord, plans for welfare and not for evil, to give you a future and a hope."
This verse is a well-known reminder that God has a plan for each one of us. His plans are for our good, and it is up to us to trust in Him and follow the path He has laid out for us.
1 Corinthians 12:12-14
"For just as the body is one and has many members, and all the members of the body, though many, are one body, so it is with Christ. For in one Spirit we were all baptized into one body—Jews or Greeks, slaves or free—and all were made to drink of one Spirit. For the body does not consist of one member but of many."
This passage reminds us that each member of the body of Christ plays a unique role and has a specific purpose. We are all important and needed to fulfill God's plan.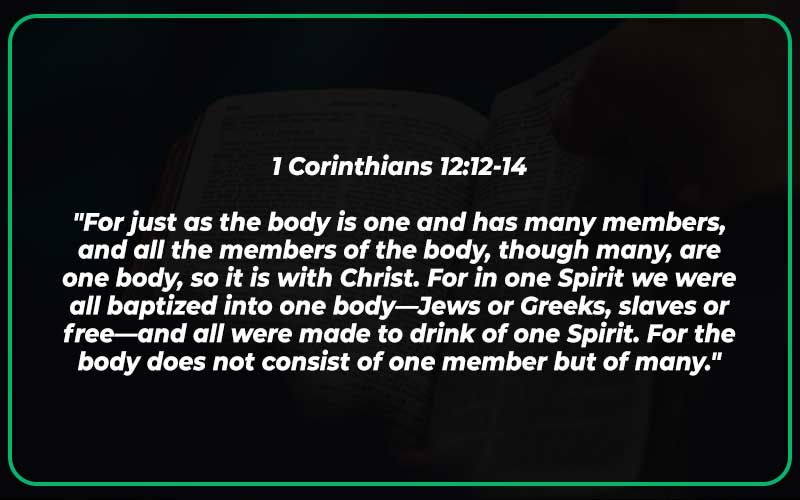 Colossians 1:16
"For by him all things were created, in heaven and on earth, visible and invisible, whether thrones or dominions or rulers or authorities—all things were created through him and for him."
This verse emphasizes that everything was created for God and His purposes. It reminds us that we were created to serve and bring glory to Him.
Acts 13:36
"For David, after he had served the purpose of God in his own generation, fell asleep and was laid with his fathers and saw corruption."
David fulfilled the purpose that God had for him in his generation. This verse serves as a reminder that we also have a purpose to fulfill in our lifetime.
Romans 8:28
"And we know that for those who love God all things work together for good, for those who are called according to his purpose."
This beloved verse reminds us that God works all things out for the good of those who love Him and are called according to His purpose. Even when we can't see it, God is working for our benefit and fulfilling the purpose He has for us.
Proverbs 19:21
"Many are the plans in the mind of a man, but it is the purpose of the Lord that will stand."
This verse reminds us that even if we have plans and ideas about our purpose, ultimately, it is only God's purpose that will stand. It is essential to seek and follow His plan for our lives.
Jeremiah 1:5
"Before I formed you in the womb I knew you, and before you were born I consecrated you; I appointed you a prophet to the nations."
God had a specific purpose for Jeremiah to be a prophet to the nations. This verse reminds us that God knew us before we were even born and has a unique purpose for each of us.
Isaiah 43:7
"Everyone who is called by my name, whom I created for my glory, whom I formed and made."
We were created for God's glory. This verse emphasizes that our purpose should be centered around bringing honor and glory to God in all that we do.
Philippians 1:6
"And I am sure of this, that he who began a good work in you will bring it to completion at the day of Jesus Christ."
This verse reminds us that God will complete the work He began in us, including fulfilling the purpose He has for us. It is essential to trust in Him and continue to seek His will.
John 15:16
"You did not choose me, but I chose you and appointed you that you should go and bear fruit and that your fruit should abide so that whatever you ask the Father in my name, he may give it to you."
Jesus chose each one of us for a specific purpose – to bear fruit that will last. When we follow His plan and walk in our purpose, He promises to hear and answer our prayers.
1 Peter 2:9
"But you are a chosen race, a royal priesthood, a holy nation, a people for his own possession, that you may proclaim the excellencies of him who called you out of darkness into his marvelous light."
This verse emphasizes that we are chosen by God to be a part of something greater than ourselves – His holy nation. Our purpose is to proclaim the excellencies of God and declare His goodness to the world.
Psalm 57:2
"I cry out to God Most High, to God who fulfills his purpose for me."
David cried out to God to fulfill His purpose in his life. This verse serves as a reminder that we can trust in God to guide us and fulfill the purpose He has for us.
Romans 12:2
"Do not be conformed to this world, but be transformed by the renewal of your mind, that by testing you may discern what is the will of God, what is good and acceptable and perfect."
We must reject the conformity of the world and allow God to transform us. When we have a renewed mind, we can better understand and fulfill God's purpose for our lives.
Psalm 138:8
"The Lord will fulfill his purpose for me; your steadfast love, O Lord, endures forever. Do not forsake the work of your hands."
This verse reminds us that God's love endures forever, and He will fulfill His purpose for us. It is up to us to trust in Him and continue to seek His will.
Matthew 28:19-20
"Go therefore and make disciples of all nations, baptizing them in the name of the Father and of the Son and of the Holy Spirit, teaching them to observe all that I have commanded you. And behold, I am with you always, to the end of the age."
Jesus' great commission reminds us of our purpose – to make disciples and spread the good news of the gospel to all nations. When we fulfill this purpose, we do so with the knowledge that Jesus is always with us.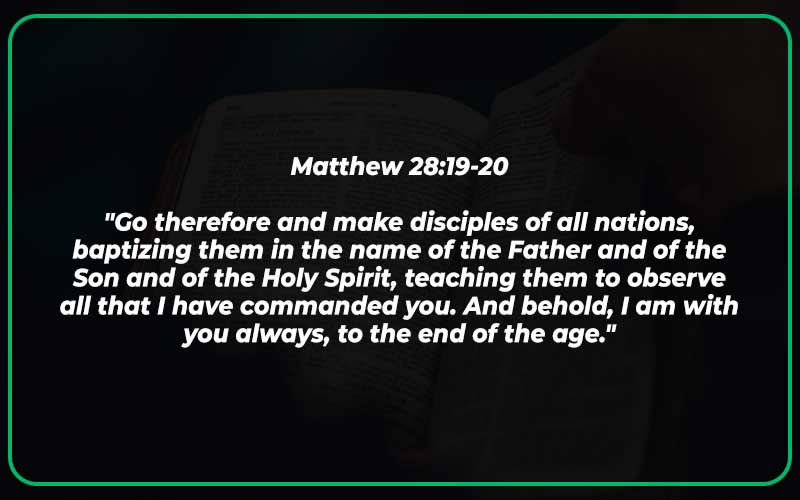 Romans 15:13
"May the God of hope fill you with all joy and peace in believing, so that by the power of the Holy Spirit you may abound in hope."
When we walk in our purpose, we can experience joy and peace that only comes from God. This verse reminds us of the hope we have in Him to fulfill His purpose in our lives.
1 Thessalonians 5:24
"He who calls you is faithful; he will surely do it."
This verse reminds us that God is faithful and will fulfill His purpose in our lives. We can trust in Him and be confident that He will bring His plans to completion.
Jeremiah 33:3
"Call to me and I will answer you, and will tell you great and hidden things that you have not known."
When we are unsure of our purpose, we can call out to God, and He promises to answer us. Through prayer, He can reveal to us the great and hidden things that we have not yet known.
What does the Bible say about Purpose?
In the Bible, the concept of purpose is central to understanding God's plan for humanity and creation. While the term "purpose" may not always be explicitly mentioned, the underlying principles and teachings emphasize the idea that each individual has a unique and meaningful role in the grand design of God's creation.
Creation with Purpose
The Bible begins with the account of God creating the heavens, the earth, and everything in it. It highlights that God's act of creation was intentional and purposeful. Humans, being made in the image of God, have a special purpose in this creation.
Seeking God's Purpose
Throughout the Scriptures, individuals seek to understand and fulfill God's purpose for their lives. Prophets, leaders, and ordinary people alike seek guidance from God to know their roles and responsibilities. This highlights the importance of aligning one's life with God's plan.
Love and Service
A key aspect of purpose in the Bible is centered around love and service. Jesus, as the central figure of Christianity, exemplified this purpose by teaching about loving God and loving others as oneself. Christians are encouraged to follow this example and serve others with love and compassion.
Spiritual Gifts and Talents
The Bible also speaks of spiritual gifts and talents that God bestows upon believers. These gifts are intended to be used to serve others and contribute positively to the world. Discovering and utilizing these gifts helps individuals find fulfillment and purpose in their lives.
Eternal Purpose
The Bible also emphasizes an eternal perspective on purpose. It teaches that life on earth is temporary, and believers should live in light of eternity. Understanding that there is a greater purpose beyond this life can bring hope, comfort, and motivation to live for something greater than oneself.
The Great Commission
In Christianity, the Great Commission is a central mandate given by Jesus to his disciples to spread the gospel and make disciples of all nations. This highlights the mission-oriented aspect of purpose, urging believers to share the message of salvation with others.
In summary, the Bible teaches that each individual has a unique purpose in God's plan, which involves seeking God's will, living in love and service to others, utilizing spiritual gifts, and living with an eternal perspective. Understanding and fulfilling one's purpose is seen as an essential part of living a meaningful and fulfilling life according to God's design.