The hand of God, a symbol of divine power and intervention, is a recurring motif throughout the Bible. Join us on a spiritual exploration of verses that speak of the mighty hand of God, unraveling the significance and lessons behind this powerful imagery.
Discover how the hand of God can provide strength, protection, and deliverance, guiding us through life's challenges and reminding us of His unfailing presence.
Also Read: 21 Bible Verses about Disobeying Parents (With Commentary)
Bible Verses about the Mighty Hand of God
"Then the Lord said to Moses, 'Now you will see what I will do to Pharaoh: Because of my mighty hand he will let them go; because of my mighty hand he will drive them out of his country.'"
Here, the Lord speaks to Moses, promising to demonstrate His power over Pharaoh and secure the release of the Israelites from bondage. God's mighty hand is described as the force behind the defeat of Israel's enemies.
Deuteronomy 3:24
"Sovereign Lord, you have begun to show to your servant your greatness and your strong hand. For what god is there in heaven or on earth who can do the deeds and mighty works you do?"
Moses praises God's mighty hand for the victories they have experienced and recognizes that there is no other God like the Lord. The verse emphasizes the uniqueness and power of God's hand in performing great works that no other deity can match.
Psalm 89:13
"Your arm is endowed with power; your hand is strong, your right hand exalted."
Here, the psalmist acknowledges that the Lord's hand and arm are sources of great strength. God's right hand is exalted, emphasized as a symbol of authority and dominion over all things.
Isaiah 48:13
"My own hand laid the foundations of the earth, and my right hand spread out the heavens; when I summon them, they all stand up together."
This verse speaks of God's hand as the creator of the universe, originating from His own power and wisdom. God's right hand is emphasized as the agent through which the heavens were formed and can be summoned to stand together.
Jeremiah 32:17
"Ah, Sovereign Lord, you have made the heavens and the earth by your great power and outstretched arm. Nothing is too hard for you."
Jeremiah praises God's mighty hand for His ability to create all things and do the impossible. The verse emphasizes the boundless power of God's hand, capable of accomplishing anything that is aligned with His will.
"He has performed mighty deeds with his arm; he has scattered those who are proud in their inmost thoughts. He has brought down rulers from their thrones but has lifted up the humble."
Mary, the mother of Jesus, praises God's mighty hand for the way He has used His power to humble the proud and exalt the humble. The verse emphasizes God's justice and compassion, acting with His mighty hand to bring about His purposes on earth.
Acts 7:32-33
"I am the God of your fathers, the God of Abraham, Isaac, and Jacob.' Moses trembled with fear and did not dare to look. Then the Lord said to him, 'Take off your sandals, for the place where you are standing is holy ground."
This passage recounts the encounter Moses had with God, emphasizing His holiness and power as God. The use of His mighty hand is not explicitly mentioned, but it is implied through His command for Moses to remove his sandals, demonstrating reverence and submission to God's authority and holiness.
1 Peter 5:6
"Humble yourselves, therefore, under God's mighty hand, that he may lift you up in due time."
This verse encourages believers to submit to God's mighty hand, being humbled in His presence and trusting in His timing for exaltation. The verse emphasizes the importance of surrendering to God's authority and recognizing His strength and power in all things.
Psalm 136:12
"With a mighty hand and outstretched arm, his love endures forever."
This verse speaks of God's mighty hand and outstretched arm as symbols of His persistent and enduring love. It emphasizes that God's love endures forever and is powerful enough to overcome all obstacles.
Isaiah 41:10
"So do not fear, for I am with you; do not be dismayed, for I am your God. I will strengthen you and help you; I will uphold you with my righteous right hand."
In this verse, God reassures His people that they have nothing to fear, for He is with them. His right hand is emphasized as a symbol of His strength and righteousness, providing support and help to those in need.
Psalm 118:15-16
"Shouts of joy and victory resound in the tents of the righteous: 'The Lord's right hand has done mighty things! The Lord's right hand is lifted high; the Lord's right hand has done mighty things!'"
This verse emphasizes the joy and victory experienced by those who recognize the mighty deeds done by God's right hand. Their emphasis on the Lord's right hand emphasizes His authority and strength, giving cause for joy and thanksgiving.
Isaiah 59:1
"Surely the arm of the Lord is not too short to save, nor his ear too dull to hear."
This verse affirms that the Lord's arm is not too weak to save and that He is attentive to the prayers of His people. Through emphasizing the length of God's arm, the verse emphasizes His power and ability to bring about salvation.
Psalm 20:6
"Now this I know: The Lord gives victory to his anointed. He answers him from his heavenly sanctuary with the victorious power of his right hand."
This verse affirms that God gives victory to His anointed. The use of His right hand emphasizes its power as the source of victory for those who trust in Him.
Isaiah 64:8
"Yet you, Lord, are our Father. We are the clay, you are the potter; we are all the work of your hand."
In this verse, God is described as the potter shaping His people. The image of His hand emphasizes His power and authority in determining their destiny.
Isaiah 51:9
"Awake, awake, arm of the Lord, clothe yourself with strength! Awake, as in days gone by, as in generations of old. Was it not you who cut Rahab to pieces, who pierced that monster through?"
This verse calls upon the arm of the Lord to awaken and display its power, emphasizing God's strength and authority to defeat His enemies. The reference to cutting Rahab to pieces likely refers to the defeat of Egypt, emphasizing God's power to overcome oppressors.
Psalms 98: The Lord's salvation was achieved by the right hand and the holy arm
1 O sing to the Lord a new song, for he has done marvelous things. His right hand and his holy arm have gotten him victory.

2 The Lord has made known his victory; he has revealed his vindication in the sight of the nations.

3 He has remembered his steadfast love and faithfulness to the house of Israel. All the ends of the earth have seen the victory of our God.
The Psalmist calls upon the people to sing a new song to the Lord, acknowledging His victory achieved by His right hand and holy arm. The psalm emphasizes that the Lord's victory has been witnessed by the ends of the earth, displaying His power to all.
Isaiah 42:6
"I, the Lord, have called you in righteousness; I will take hold of your hand. I will keep you and will make you to be a covenant for the people and a light for the Gentiles."
This verse speaks of God taking hold of His people's hand and promising to keep them. The use of hand emphasizes God's care and protection for His people, guiding them into a covenant relationship and fulfilling His purpose through them.
Deuteronomy 4:34
"Has any god ever tried to take for himself one nation out of another nation, by testings, by signs and wonders, by war, by a mighty hand and an outstretched arm, or by great and awesome deeds, like all the things the Lord your God did for you in Egypt before your very eyes?"
Here, Moses is speaking to the Israelites, emphasizing God's powerful and mighty hand in delivering them from Egypt. The use of hand to describe God's action emphasizes His strength and power, underlining the uniqueness of His greatness as a deity who performs great and mighty deeds on behalf of His people.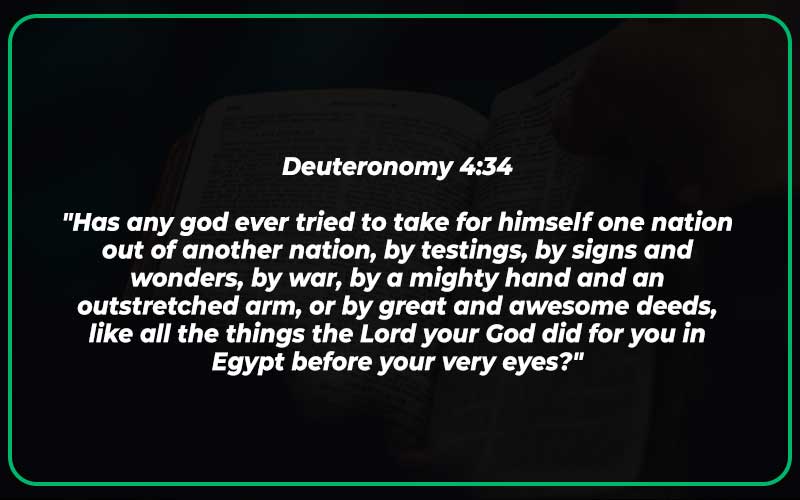 What does the Bible say about the Mighty Hand of God?
The concept of the "Mighty Hand of God" is a recurring theme throughout the Bible, representing God's power, strength, and authority. It is often used to describe the miraculous and divine intervention of God in the lives of His people. The phrase is typically associated with acts of deliverance, protection, and judgment.
In the Old Testament, the Mighty Hand of God is frequently mentioned in the context of the Exodus, where God displayed His power by delivering the Israelites from slavery in Egypt. The book of Exodus recounts numerous instances of God's Mighty Hand at work, such as parting the Red Sea, sending plagues upon Egypt, and providing manna in the wilderness.
Throughout the historical books and the Psalms, the Mighty Hand of God is celebrated as a symbol of God's faithfulness to His covenant and His ability to defeat enemies and protect His people.
In the New Testament, the concept is not as explicit, but the idea of God's power and authority is still prevalent, particularly in the life and ministry of Jesus. Jesus' miracles, healings, and ultimately His resurrection demonstrate God's Mighty Hand at work.
Overall, the phrase "Mighty Hand of God" serves as a reminder to believers of God's sovereignty, His ability to intervene in human affairs, and His willingness to act on behalf of those who trust in Him. It encourages faith, hope, and dependence on God's strength in times of trouble and challenges.