Each one of us is fearfully and wonderfully made, with unique qualities, gifts, and purposes. The Bible celebrates the beauty of our individuality and emphasizes the value of embracing our uniqueness.
In this blog post, we'll explore verses about uniqueness, uncovering the profound wisdom and encouragement they offer.
Join me as we discover the transformative power of embracing our authentic selves, honoring our differences, and living out our God-given calling with boldness and confidence.
Together, let's celebrate the tapestry of diversity woven by our Creator and inspire one another to shine brightly as the unique individuals we were created to be.
Also Read: Bible Verses About Honey
Bible Verses About Uniqueness
1. Psalm 139:14
"I praise you because I am fearfully and wonderfully made; your works are wonderful, I know that full well."
This verse acknowledges that we are each fearfully and wonderfully made by God. It tells us that we are unique and special in His sight.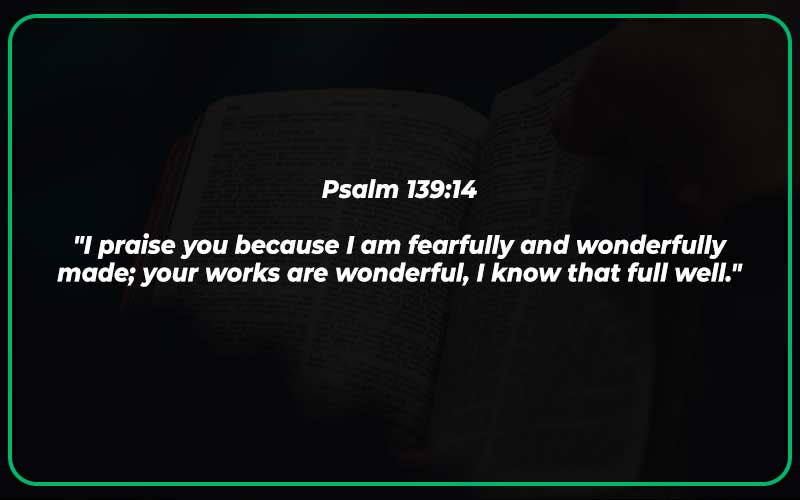 2. Ephesians 2:10
"For we are God's handiwork, created in Christ Jesus to do good works, which God prepared in advance for us to do."
God has created us as His masterpiece, uniquely gifted to fulfill the purpose He has for us. We are not accidents; our lives have divine significance.
3. Jeremiah 1:5
"Before I formed you in the womb I knew you, before you were born I set you apart; I appointed you as a prophet to the nations."
God knew us before we were even formed in the womb. He has a specific purpose and calling for each of us, setting us apart to be instruments of His will.
4. 1 Peter 2:9
"But you are a chosen people, a royal priesthood, a holy nation, God's special possession, that you may declare the praises of him who called you out of darkness into his wonderful light."
As believers, we are chosen by God to be a part of His kingdom and priesthood. We are His special possession, called to proclaim His glory to the world.
5. Psalm 139:16
"Your eyes saw my unformed body; all the days ordained for me were written in your book before one of them came to be."
God has a plan for our lives, and He knows every detail even before our existence. Our uniqueness is not accidental; it is intentional and carefully crafted by Him.
6. 2 Corinthians 5:17
"Therefore, if anyone is in Christ, the new creation has come: The old has gone, the new is here!"
Through our relationship with Christ, we are transformed into new creations. Our uniqueness lies in the fact that we no longer identify with our old self, but with the new life in Christ.
7. Psalm 119:73
"Your hands made me and formed me; give me understanding to learn your commands."
God is the creator of our being, intricately designing us. Embracing our uniqueness requires us to seek His understanding and guidance, so we can fulfill His purpose for us.
8. 1 Corinthians 12:14
"Even so the body is not made up of one part, but of many."
Just as our physical bodies have different parts with unique functions, so too does the body of Christ. Each member has a distinct role and contribution, highlighting the beauty of diversity.
9. Romans 12:6
"We have different gifts, according to the grace given to each of us."
God has given each of us different gifts, talents, and abilities. Our uniqueness lies in embracing and using these gifts to serve others and bring glory to Him.
10. 1 Peter 4:10
"Each of you should use whatever gift you have received to serve others, as faithful stewards of God's grace in its various forms."
Our uniqueness becomes evident as we use our God-given gifts to serve others selflessly. We are called to be stewards of His grace, allowing His light to shine through us.
11. Isaiah 64:8
"Yet you, LORD, are our Father. We are the clay, you are the potter; we are all the work of your hand."
God is the potter, and we are the clay. He molds us according to His purpose and plan. Our uniqueness lies in surrendering to His shaping, allowing Him to mold us into vessels of His glory.
12. Romans 9:21
"Does not the potter have the right to make out of the same lump of clay some pottery for special purposes and some for common use?"
As the potter, God has the authority to create vessels for different purposes. Our uniqueness is a reflection of His wisdom and sovereignty, as He designs us for specific tasks.
13. 1 Thessalonians 5:24
"The one who calls you is faithful, and he will do it."
God is faithful to fulfill His plans for our lives. Our uniqueness and the purpose He has for us are not dependent on our own abilities, but on His faithfulness and guidance.
14. Isaiah 43:7
"Everyone who is called by my name, whom I created for my glory, whom I formed and made."
We are created for God's glory. Our uniqueness is meant to reflect His character and bring Him honor. When we embrace our identity in Christ, we become vessels of His glory.
15. 1 Corinthians 12:18
"But in fact, God has placed the parts in the body, every one of them, just as he wanted them to be."
God intentionally places each member in the body of Christ. Our uniqueness and diverse gifts are essential for the proper functioning of the body, showing His wisdom in orchestrating it all.
16. Jeremiah 29:11
"For I know the plans I have for you," declares the LORD, "plans to prosper you and not to harm you, plans to give you hope and a future."
God assures us that He has plans for our lives, plans that bring about prosperity, hope, and a future. Our uniqueness is part of His plan, carefully designed for our benefit.
17. Psalm 100:3
"Know that the LORD is God. It is he who made us, and we are his; we are his people, the sheep of his pasture."
We belong to God; we are His people. He is the shepherd watching over us. Our uniqueness is rooted in our identity as His beloved children, cared for and guided by Him.
18. Matthew 5:14
"You are the light of the world. A town built on a hill cannot be hidden."
As followers of Christ, we are called to be a light in the world. Our uniqueness is meant to shine forth, impacting others positively, and drawing them closer to the truth of the Gospel.
19. Galatians 2:20
"I have been crucified with Christ and I no longer live, but Christ lives in me. The life I now live in the body, I live by faith in the Son of God, who loved me and gave himself for me."
When we surrender our lives to Christ, our old self is crucified, and we are raised to new life. Our uniqueness lies in having Christ dwell within us, guiding and empowering us to live by faith.
20. Romans 8:28
"And we know that in all things God works for the good of those who love him, who have been called according to his purpose."
God works all things together for the good of those who love Him. Our uniqueness and the circumstances of our lives are part of His grand plan, carefully tailored to fulfill His purpose.
21. 1 Samuel 16:7
"But the LORD said to Samuel, 'Do not consider his appearance or his height, for I have rejected him. The LORD does not look at the things people look at. People look at the outward appearance, but the LORD looks at the heart.'"
God does not judge us based on outward appearances. Our uniqueness is not defined by our external attributes but by the condition of our hearts—our character, values, and relationship with Him.
22. Romans 12:2
"Do not conform to the pattern of this world, but be transformed by the renewing of your mind. Then you will be able to test and approve what God's will is—his good, pleasing and perfect will."
Our uniqueness is found in being transformed by the renewing of our minds. We are called to resist the pressures of the world and embrace the truth of God's Word, aligning our lives with His perfect will.
23. 1 Corinthians 1:27
"But God chose the foolish things of the world to shame the wise; God chose the weak things of the world to shame the strong."
God often chooses the unlikely and unexpected to accomplish His purposes. Our uniqueness may not fit society's standards, but it is precisely in our weaknesses and limitations that His strength is made evident.
What Does the Bible Say About Uniqueness?
The Bible does not explicitly mention the concept of "uniqueness" in the modern sense. However, it does contain various passages that emphasize the individuality and value of each person in the eyes of God.
Created in God's Image: The Bible teaches that all human beings are created in the image of God (Genesis 1:27). This foundational belief underscores the inherent dignity and worth of every individual, making each person unique and special.
Unique Talents and Gifts: In several parables and teachings, Jesus compares the Kingdom of God to a master distributing talents to his servants (Matthew 25:14-30, Luke 19:11-27). Each servant receives different amounts of talents, symbolizing the uniqueness of the gifts and abilities bestowed upon each person. Christians are encouraged to use their unique talents for the glory of God and the well-being of others.
Individual Calling: The Bible acknowledges that God has a specific plan and calling for each person's life (Jeremiah 29:11, Ephesians 2:10). It emphasizes that God knows individuals intimately, including their past, present, and future.
Personal Relationship with God: Christianity emphasizes the idea of a personal relationship with God through Jesus Christ. While believers are part of a larger body of Christ, they also have a unique and personal connection with the Creator (John 10:14-15, Revelation 3:20).
Non-Conformity to the World: The Bible exhorts believers not to conform to the patterns of this world but to be transformed by the renewing of their minds (Romans 12:2). This implies that they should embrace their uniqueness as God's creation rather than succumbing to societal pressures.
In summary, while the term "uniqueness" might not be explicitly mentioned, the Bible underscores the individual worth, calling, and gifts of each person, emphasizing the idea that every individual is special in the eyes of God.