In the midst of chaos and uncertainty, finding solace in God's order can provide profound clarity and peace.
Join us as we uncover inspiring Bible verses about God's order, revealing His divine plan, unwavering sovereignty, and the reassuring promise that He holds all things together, even when our lives feel disarrayed.
Bible Verses about God's Order
Genesis 1:1
"In the beginning God created the heavens and the earth."
This verse sets the tone for God's orderliness in creation. The initial act of creation reflects God's sovereignty and mastery over the universe. He meticulously established the cosmos, creating a structured environment. His actions underline the importance of order in our lives, teaching us to approach tasks systematically and with purpose, just as He did.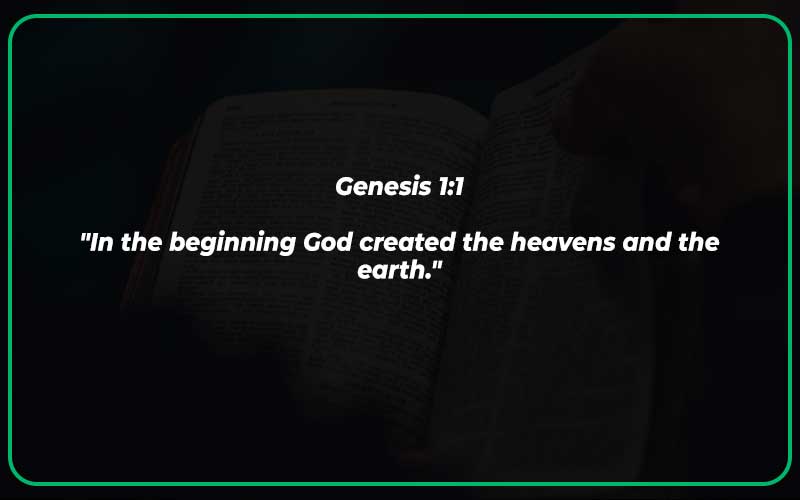 Proverbs 3:5-6
"Trust in the LORD with all your heart and lean not on your own understanding; in all your ways submit to him, and he will make your paths straight."
This verse conveys that trusting in God and submitting to His order brings clarity and direction. We often seek to assert our own understanding, yet it's in surrendering to God's wisdom that we find the correct path. It implies that God's order often surpasses human comprehension, yet it brings ultimate prosperity and peace.
"For God is not a God of disorder but of peace—as in all the congregations of the Lord's people."
This verse emphasizes that God's order brings peace. God is a deity of tranquility, not chaos. The structure within the congregation of God's people signifies the divine order, which when respected, promotes harmony and unity. It highlights that God's system of order is applicable to all aspects of life, including our community interactions.
Jeremiah 29:11
"For I know the plans I have for you," declares the LORD, "plans to prosper you and not to harm you, plans to give you hope and a future."
Here, God declares that His order includes plans for our prosperity and wellbeing. His order doesn't aim to harm us but instead to provide a hopeful future. It showcases God's benevolence and His meticulously crafted design for each individual, underscoring the blessings inherent in aligning ourselves with His divine order.
Psalm 37:23
"The steps of a good man are ordered by the LORD: and he delighteth in his way."
This verse reminds us that following God's order leads to divine favor. The steps of a virtuous person, guided by God's order, result in a life path that brings delight. It encourages the pursuit of righteousness and adherence to God's decree as the pathway to joy and fulfillment.
Romans 8:28
"And we know that in all things God works for the good of those who love him, who have been called according to his purpose."
Romans 8:28 teaches us that God's order encompasses working all things together for the good of those who love Him. Even in challenging circumstances, God's divine arrangement operates for our benefit, demonstrating His unyielding love and purpose for us.
Colossians 2:5
"For though I am absent from you in body, I am present with you in spirit and delight to see how disciplined you are and how firm your faith in Christ is."
Colossians 2:5 lauds the discipline and firmness of faith as signs of adhering to God's order. It demonstrates that commitment to God's principles, even in the absence of physical supervision, brings delight and shows spiritual maturity.
Exodus 15:26
"He said, 'If you listen carefully to the LORD your God and do what is right in his eyes, if you pay attention to his commands and keep all his decrees, I will not bring on you any of the diseases I brought on the Egyptians, for I am the LORD, who heals you.'"
God promises protection and healing for those who heed His commands, affirming the importance of maintaining order in our lives according to His standards. This verse also reveals God as a healer, emphasizing His role in restoring and maintaining order in our health and lives.
1 Corinthians 14:40
"But everything should be done in a fitting and orderly way."
This verse is a clear mandate from the apostle Paul advocating for orderliness in all endeavors. By conducting our affairs in an orderly manner, we mirror God's divine structure, reinforcing the principle that God's order is not restrictive but rather a pathway to accomplishing tasks effectively and harmoniously.
Psalm 119:133
"Direct my footsteps according to your word; let no sin rule over me."
This verse shows us that God's order is a safeguard against sin. By aligning our steps with His word, we keep sin from ruling over us, ensuring that our actions resonate with God's order, which brings about righteousness and integrity.
Hebrews 13:8
"Jesus Christ is the same yesterday and today and forever."
The constancy of Jesus Christ is a reflection of God's unchanging order. Despite the flux of human conditions and societies, God's order remains consistent and reliable, much like Christ's unwavering character and purpose. This verse serves as a reminder of the eternal, unchanging nature of God and His plan for us.
Isaiah 40:8
"The grass withers and the flowers fall, but the word of our God endures forever."
This verse contrasts the transience of earthly life with the permanence of God's Word. It highlights the enduring quality of God's divine order, which remains firm despite the changing seasons and fleeting life on earth. God's order is as resilient and enduring as His word, providing a stable framework for our lives.
Proverbs 16:3
"Commit to the LORD whatever you do, and he will establish your plans."
Here, we are guided to commit our works to God for the establishment of our plans. It implies that when our deeds align with God's order, He assists in fulfilling our ambitions. God's divine order hence acts as a roadmap to achieving our goals and aspirations, provided we put Him at the forefront.
"For we are God's handiwork, created in Christ Jesus to do good works, which God prepared in advance for us to do."
This verse reiterates that we are creations of God, designed to perform good works that God has already orchestrated. It emphasizes the intricacy of God's order, where He has predetermined roles for us, thereby urging us to discover and fulfill these divinely arranged responsibilities.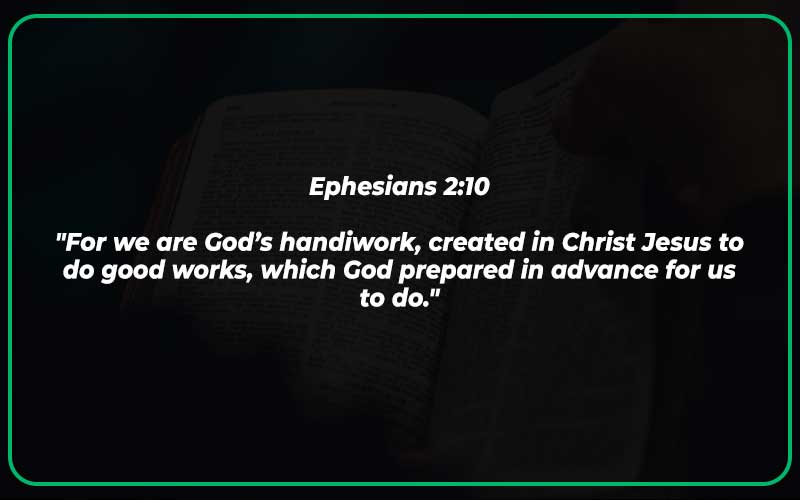 Romans 12:2
"Do not conform to the pattern of this world, but be transformed by the renewing of your mind. Then you will be able to test and approve what God's will is—his good, pleasing and perfect will."
Romans 12:2 urges us not to conform to worldly patterns but to seek transformation through renewing our minds. This transformation allows us to comprehend God's order, test it, and confirm its goodness and perfection. Thus, God's order isn't merely a set of rules, but a transformative power leading to spiritual enlightenment.
John 1:3
"Through him all things were made; without him nothing was made that has been made."
John 1:3 asserts that all creations owe their existence to God. His creative order ensures that everything in the universe holds a purpose and is part of His grand design. Acknowledging this fact reinforces our reverence for God's orderly power in our lives.
Also Read: 25 Bible Verses about Memories (With Commentary)
1 John 2:17
"The world and its desires pass away, but whoever does the will of God lives forever."
In this verse, the ephemeral nature of worldly desires is juxtaposed against the everlasting life promised to those who follow God's will. God's order, therefore, is portrayed as a pathway to eternal life, reiterating the superiority of divine order over temporal worldly desires.
Proverbs 19:21
"Many are the plans in a person's heart, but it is the LORD's purpose that prevails."
This verse conveys that, regardless of our plans, God's purpose prevails. It's a reminder that our plans may not always align with God's order, but His divine arrangement always supersedes, as it is purposeful and beneficial for us in ways we may not understand.
Psalm 90:12
"Teach us to number our days, that we may gain a heart of wisdom."
This verse serves as a request for God to instill wisdom in us to understand the brevity of human life. It encourages us to value our time according to God's divine order, thus learning to prioritize our actions wisely and live more purposeful lives.
James 1:17
"Every good and perfect gift is from above, coming down from the Father of the heavenly lights, who does not change like shifting shadows."
The unchanging nature of God is underlined in this verse. His order remains consistent, and every perfect gift stems from it. As we recognize God as the source of all blessings, we appreciate the orderly process by which He dispenses these gifts, reinforcing our faith in His divine arrangement.
"But you are a chosen people, a royal priesthood, a holy nation, God's special possession, that you may declare the praises of him who called you out of darkness into his wonderful light."
This verse reminds us of our divine calling and purpose as God's chosen people. It highlights the order God has set, wherein we are destined to proclaim His excellences, having been brought from darkness to His magnificent light. Our lives, therefore, should reflect this divine mandate, indicating the importance of aligning with God's order.
What does the bible say About a God's Order?
The concept of God's order is a prominent theme throughout the Bible. It encompasses the idea that God has established a divine plan and structure for the universe, including the roles and responsibilities of individuals and societies. This order is often seen as a reflection of God's wisdom, love, and sovereignty.
In the Old Testament, God's order is evident in the creation story where He establishes the natural world and sets humanity as stewards over it. Additionally, various laws and commandments provided a framework for moral and ethical living, emphasizing justice, compassion, and righteousness.
The New Testament reinforces this idea of order, particularly in the teachings of Jesus. He speaks of prioritizing love for God and neighbor, highlighting the importance of humility and servanthood. The early Christian communities, as described in the epistles, also grapple with issues of order and conduct within the church.
Furthermore, many biblical figures exemplify the consequences of adhering to or deviating from God's order. Obedience often leads to blessings, while disobedience can result in turmoil and separation from God.
Overall, the Bible portrays God's order as a foundational principle that guides human existence, emphasizing the importance of aligning one's life with God's purposes and designs for the world.