As Easter approaches, many Christians choose to observe the season of Lent as a period of reflection and penitence. For those looking for spiritual guidance during this time, Bible verses can be an invaluable source of strength and comfort.
Today, we will explore some important Lent bible verses to help you this season. Whether you're preparing for Good Friday or just need a little extra motivation on your path toward redemption, these verses will give you something to reflect upon over the next few weeks!
What Does the Bible Say About Lent?

The concept of Lent is not explicitly mentioned in the Bible as a prescribed practice. However, the observance of Lent has developed within the Christian tradition as a period of preparation, reflection, and penance leading up to Easter, the celebration of Jesus Christ's resurrection.
The duration of Lent is generally 40 days, symbolizing the 40 days Jesus spent fasting in the wilderness before beginning his ministry. This period begins on Ash Wednesday and concludes on Holy Saturday, the day before Easter Sunday.
The biblical basis for the practices associated with Lent, such as fasting, repentance, and self-denial, can be found in various passages of the Bible. Jesus himself taught about fasting (Matthew 6:16-18) and the importance of genuine repentance (Luke 13:1-9). The Old Testament also includes instances of fasting and mourning, such as in the book of Joel (Joel 2:12-13).
Lent serves as a time for Christians to reflect on their relationship with God, seek forgiveness for their sins, and grow in spiritual discipline. While the direct commandment to observe Lent is not present in the Bible, many Christians find value in using this season as an opportunity for self-examination, drawing closer to God, and focusing on the significance of Christ's sacrifice.
Lent Bible Verses
Lent is a season of reflection, repentance, and renewal for Christians. As we journey through Lent, the following Bible verses can help guide our thoughts and prayers.
Fasting and Sacrifice
Matthew 6:16-18
"And when you fast, do not look gloomy like the hypocrites, for they disfigure their faces that their fasting may be seen by others. Truly, I say to you, they have received their reward. But when you fast, anoint your head and wash your face, that your fasting may not be seen by others but by your Father who is in secret. And your Father who sees in secret will reward you."
Joel 2:12-13
"Yet even now," declares the Lord, "return to me with all your heart, with fasting, with weeping, and with mourning; and rend your hearts and not your garments." Return to the Lord your God, for he is gracious and merciful, slow to anger, and abounding in steadfast love; and he relents over disaster.
Psalm 35:13
"But I, when they were sick— I wore sackcloth; I afflicted myself with fasting; I prayed with head bowed on my chest."
Isaiah 58:6-7
"Is not this the fast that I choose: to loose the bonds of wickedness, to undo the straps of the yoke, to let the oppressed go free, and to break every yoke? Is it not to share your bread with the hungry and bring the homeless poor into your house; when you see the naked, to cover him, and not to hide yourself from your own flesh?"
Matthew 4:1-2
"Then Jesus was led up by the Spirit into the wilderness to be tempted by the devil. And after fasting forty days and forty nights, he was hungry."
Also Read: Top 30 Bible Verses About Walking in Faith
Repentance and Forgiveness
Joel 2:12-13
"Yet even now," declares the Lord, "return to me with all your heart, with fasting, with weeping, and with mourning; and rend your hearts and not your garments." Return to the Lord your God, for he is gracious and merciful, slow to anger, and abounding in steadfast love; and he relents over disaster.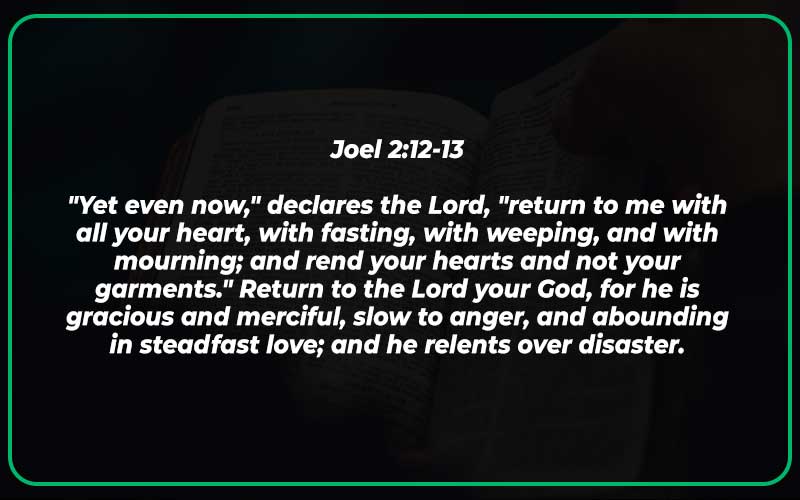 Psalm 51:10-12
"Create in me a clean heart, O God, and renew a right spirit within me. Cast me not away from your presence, and take not your Holy Spirit from me. Restore to me the joy of your salvation, and uphold me with a willing spirit."
Luke 5:31-32
"And Jesus answered them, 'Those who are well have no need of a physician, but those who are sick. I have not come to call the righteous but sinners to repentance.'"
1 John 1:9
"If we confess our sins, he is faithful and just to forgive us our sins and to cleanse us from all unrighteousness."
Psalm 32:5
"I acknowledged my sin to you, and I did not cover my iniquity; I said, 'I will confess my transgressions to the Lord,' and you forgave the iniquity of my sin."
Prayer and Reflection
Matthew 6:6
"But when you pray, go into your room and shut the door and pray to your Father who is in secret. And your Father who sees in secret will reward you."
Psalm 46:10
"Be still, and know that I am God. I will be exalted among the nations, I will be exalted in the earth!"
Psalm 139:23-24
"Search me, O God, and know my heart! Try me and know my thoughts! And see if there be any grievous way in me, and lead me in the way everlasting!"
Colossians 4:2
"Continue steadfastly in prayer, being watchful in it with thanksgiving."
Philippians 4:6-7
"Do not be anxious about anything, but in everything by prayer and supplication with thanksgiving let your requests be made known to God. And the peace of God, which surpasses all understanding, will guard your hearts and your minds in Christ Jesus."
James 5:16
"Therefore, confess your sins to one another and pray for one another, that you may be healed. The prayer of a righteous person has great power as it is working."
Also Read: 36 Good Friday Bible Verses for Self-Reflection and Repentance
Renewal and Hope
Isaiah 43:19
"Behold, I am doing a new thing; now it springs forth, do you not perceive it? I will make a way in the wilderness and rivers in the desert."
2 Corinthians 5:17
"Therefore, if anyone is in Christ, he is a new creation. The old has passed away; behold, the new has come."
Romans 12:2
"Do not be conformed to this world, but be transformed by the renewal of your mind, that by testing you may discern what is the will of God, what is good and acceptable and perfect."
Psalm 51:7
"Purge me with hyssop, and I shall be clean; wash me, and I shall be whiter than snow."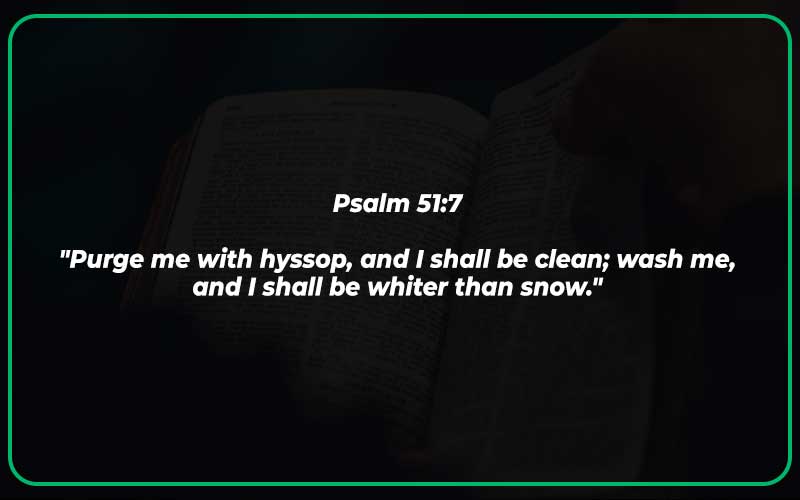 Isaiah 40:31
"But they who wait for the Lord shall renew their strength; they shall mount up with wings like eagles; they shall run and not be weary; they shall walk and not faint."
The Sacrifice of Christ
John 3:16
"For God so loved the world, that he gave his only Son, that whoever believes in him should not perish but have eternal life."
Isaiah 53:5
"But he was pierced for our transgressions; he was crushed for our iniquities; upon him was the chastisement that brought us peace, and with his wounds we are healed."
Hebrews 9:28
"So Christ, having been offered once to bear the sins of many, will appear a second time, not to deal with sin but to save those who are eagerly waiting for him."
2 Corinthians 5:21
"For our sake he made him to be sin who knew no sin, so that in him we might become the righteousness of God."
Romans 5:8
"But God shows his love for us in that while we were still sinners, Christ died for us."
Also Read: 30 Best Communion Bible Verses and Communion Scriptures
The Origin and Purpose of Lent
Lent, derived from the Old English word "lencten," meaning "spring," has its origins in the early Christian church. While the exact timeline of when Lent was established is debated, it is clear that by the fourth century, the concept of a 40-day period of preparation before Easter was well-established. This period was initially observed as a time of fasting and preparation for new converts before their baptism on Easter.
The duration of Lent, 40 days, holds deep biblical significance. It recalls the 40 days and nights that Jesus spent fasting and praying in the wilderness before beginning his public ministry (Matthew 4:1-11). Just as Jesus overcame temptation during this time, Lent provides a symbolic opportunity for Christians to reflect on their own spiritual journey, confront their weaknesses, and draw closer to God.
The purpose of Lent extends beyond merely imitating Jesus' 40 days in the wilderness. It's a season for believers to engage in self-examination, repentance, and spiritual growth. The 40-day period serves as a period of reflection, fasting, and penance, allowing individuals to identify and detach from the distractions and attachments that distance them from God.
Lent also signifies the journey from darkness to light, from sin to redemption, and from death to resurrection. It prepares Christians to fully embrace the transformative message of Easter – Christ's death and resurrection – by focusing on their own need for salvation and renewal.
In essence, Lent is an intentional season of recentering one's relationship with God. Through practices like fasting, prayer, almsgiving, and meditation on scripture, believers seek a deeper understanding of their spiritual condition and their dependence on God's grace.
While the core purpose of Lent remains consistent across many Christian traditions, there are variations in how it is observed. Different denominations and cultures may emphasize particular practices, rituals, or liturgies during this season. Some churches might focus more on penance and self-denial, while others emphasize spiritual reflection and meditation on Christ's sacrifice.
It's important to note that not all Christians observe Lent in the same way, and some denominations may not observe it at all. However, understanding the biblical basis of Lent can help individuals from all backgrounds appreciate its significance, whether they choose to participate or not.
A Prayer for Lent
Dear God,

As we enter into this season of Lent, we come before you with open hearts and minds, ready to reflect on our lives and draw closer to you. Help us to remember the sacrifice of your son Jesus Christ and to seek forgiveness for our sins.

Grant us the strength and courage to fast and make sacrifices that will bring us closer to you. Help us to let go of our attachments to material things and focus instead on the spiritual gifts you offer.

Guide us in our prayers and reflections, that we may come to a deeper understanding of your love and grace. Help us to renew our commitment to following your will and serving others with humility and compassion.

As we journey through Lent, may we be mindful of the needs of others, and seek opportunities to give of ourselves in service to them. Help us to be a light in the darkness, reflecting your love and mercy to all those we encounter.

We ask for your guidance and blessings as we make this Lenten journey, and pray that we may emerge from this season renewed in our faith and strengthened in our commitment to you.

We offer this prayer in the name of Jesus Christ, our Lord and Savior.

Amen.
Final Thoughts
Lent is a time of reflection, repentance, and renewal for Christians. Through prayer, fasting, and acts of service, we seek to draw closer to God and deepen our faith.
The Bible offers many verses that can guide us on this journey, reminding us of the sacrifice of Jesus Christ and the forgiveness and hope that he offers.
As we reflect on our lives and seek to make meaningful changes, may we be strengthened and renewed by the grace and love of God. May this Lenten season be a time of spiritual growth and transformation, as we strive to live more fully in God's presence and reflect his love to the world.