Sportsmanship is more than just winning or losing; it encompasses virtues like integrity, respect, and fair play.
The Bible provides us with verses that highlight the values of sportsmanship, reminding us of the attitudes and behaviors that reflect Christ-like character, both on and off the field.
Join me as we explore these verses, gaining inspiration and wisdom to cultivate a spirit of sportsmanship in our lives, whatever our endeavors may be.
Bible Verses about Sportsmanship
Philippians 2:3
"Do nothing out of selfish ambition or vain conceit. Rather, in humility value others above yourselves."
Sportsmanship is rooted in selflessness and humility. This verse encourages us to prioritize the well-being and respect of others over personal gain or pride.
Colossians 3:23
"Whatever you do, work at it with all your heart, as working for the Lord, not for human masters."
This verse reminds us that sportsmanship involves giving our best effort and displaying integrity in every aspect of the game, recognizing that our actions ultimately reflect our commitment to God.
"Do you not know that in a race all the runners run, but only one receives the prize? So run that you may obtain it."
Here, Paul uses the metaphor of a race to emphasize the importance of discipline, perseverance, and fair competition in sports. It encourages athletes to strive for excellence while maintaining a spirit of fairness and camaraderie.
Romans 12:10
"Be devoted to one another in love. Honor one another above yourselves."
This verse highlights the significance of valuing and respecting fellow athletes, treating them with kindness and honor, even amidst competition. It encourages a spirit of camaraderie and mutual support in sportsmanship.
Proverbs 16:32
"Whoever is slow to anger is better than the mighty, and he who rules his spirit than he who takes a city."
True sportsmanship requires self-control and emotional restraint. This verse reminds us that displaying patience and managing our emotions is a mark of strength and character.
Hebrews 12:1
"Therefore, since we are surrounded by such a great cloud of witnesses, let us throw off everything that hinders and the sin that so easily entangles. And let us run with perseverance the race marked out for us."
Drawing inspiration from the metaphor of a race, this verse encourages athletes to persevere through challenges, casting off any hindrances or negative influences. It inspires a focus on the goal and the determination to overcome obstacles with grace and fortitude.
Proverbs 27:17
"Iron sharpens iron, and one man sharpens another."
This verse underscores the importance of healthy competition and camaraderie. In sportsmanship, athletes can encourage and sharpen each other, fostering personal growth and collective improvement.
Ecclesiastes 9:10
"Whatever your hand finds to do, do it with all your might, for in the realm of the dead, where you are going, there is neither working nor planning nor knowledge nor wisdom."
This verse reminds us to approach sportsmanship with wholehearted dedication and passion. It encourages athletes to give their best in every endeavor, knowing that opportunities for growth and impact are limited.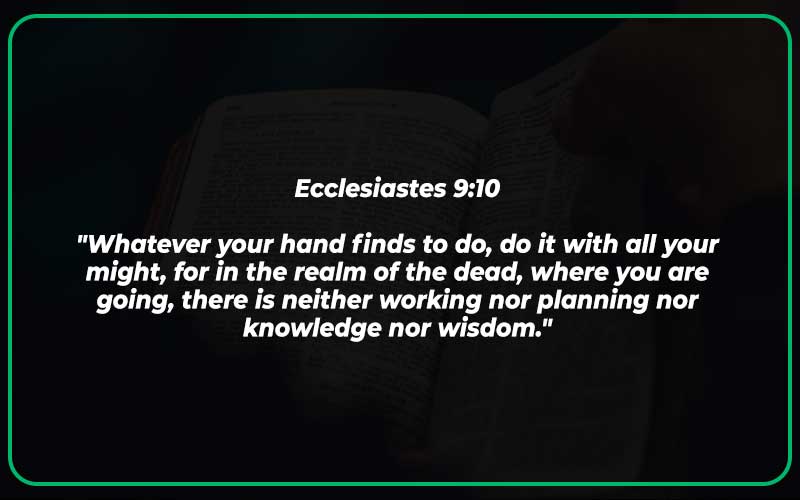 Proverbs 3:5-6
"Trust in the LORD with all your heart and lean not on your own understanding; in all your ways submit to him, and he will make your paths straight."
Sportsmanship involves trust and surrender to God's guidance. By relying on Him and aligning our actions with His will, we can navigate challenges with wisdom and integrity.
1 Timothy 4:8
"For physical training is of some value, but godliness has value for all things, holding promise for both the present life and the life to come."
This verse reminds athletes that while physical training and sportsmanship are important, developing godly character holds eternal significance. It encourages them to prioritize spiritual growth alongside their athletic pursuits.
Matthew 6:33
"But seek first his kingdom and his righteousness, and all these things will be given to you as well."
In the context of sportsmanship, this verse teaches athletes to prioritize God's kingdom and righteousness above personal achievements. By seeking God's will first, they can find true fulfillment and experience His blessings in their athletic endeavors.
Galatians 5:22-23
"But the fruit of the Spirit is love, joy, peace, forbearance, kindness, goodness, faithfulness, gentleness, and self-control. Against such things there is no law."
True sportsmanship reflects the fruit of the Spirit in our lives. These qualities—love, joy, peace, forbearance, kindness, goodness, faithfulness, gentleness, and self-control—shape our interactions on and off the field, fostering an atmosphere of respect and unity.
Ephesians 4:32
"Be kind to one another, tenderhearted, forgiving one another, as God in Christ forgave you."
This verse emphasizes the importance of kindness and forgiveness in sportsmanship. It reminds athletes to treat one another with compassion, bearing in mind the forgiveness and grace they have received from God.
Philippians 4:13
"I can do all things through him who strengthens me."
Sportsmanship involves recognizing our dependence on God's strength and seeking His empowerment. This verse inspires athletes to approach challenges with confidence, knowing that God equips them to overcome obstacles.
Proverbs 11:2
"When pride comes, then comes disgrace, but with humility comes wisdom."
Humility is a key element of sportsmanship. This verse warns against the destructive nature of pride and highlights the wisdom that accompanies humility, fostering healthy competition and positive interactions.
James 1:19
"Know this, my beloved brothers: let every person be quick to hear, slow to speak, slow to anger."
Effective sportsmanship requires active listening, thoughtful communication, and emotional control. This verse encourages athletes to practice restraint, promoting understanding and harmony in their interactions.
Proverbs 14:21
"Whoever despises his neighbor is a sinner, but blessed is he who is generous to the poor."
Sportsmanship extends beyond competition to our treatment of others. This verse reminds athletes to show kindness and generosity, both on and off the field, as they interact with teammates, opponents, and those in need.
Colossians 4:6
"Let your speech always be gracious, seasoned with salt, so that you may know how you ought to answer each person."
Words hold power in sportsmanship. This verse encourages athletes to use their words wisely, speaking with grace, respect, and wisdom in their interactions, promoting understanding and building positive relationships.
Also Read: 27 Bible Verses about Fake People (With Commentary)
Proverbs 17:17
"A friend loves at all times, and a brother is born for a time of adversity."
True sportsmanship involves being a faithful friend and a supportive teammate. This verse reminds athletes of the importance of standing by one another, offering encouragement and assistance in times of difficulty.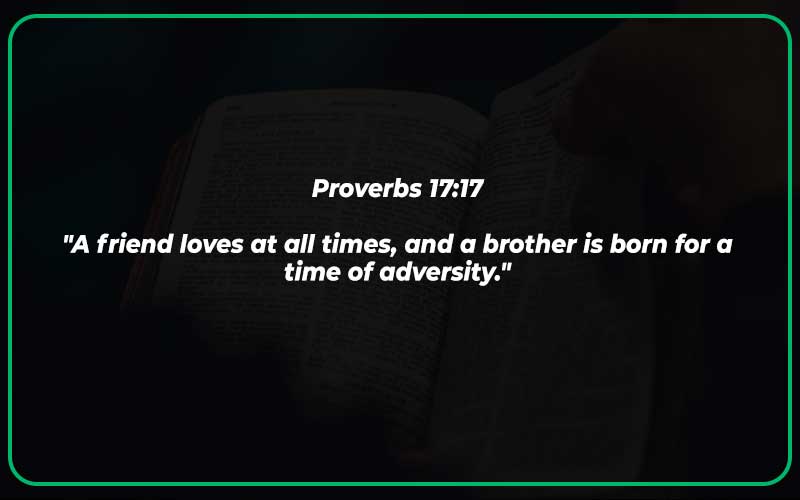 1 Corinthians 10:31
"So whether you eat or drink or whatever you do, do it all for the glory of God."
Sportsmanship encompasses our actions, both on and off the field. This verse encourages athletes to approach every aspect of their sport with the intention of honoring God and reflecting His character.
Galatians 6:2
"Bear one another's burdens, and so fulfill the law of Christ."
In sportsmanship, athletes should be willing to support and uplift one another. This verse reminds them of the importance of showing compassion and providing assistance to teammates and opponents alike, fostering unity and goodwill.
Philippians 1:27
"Only let your manner of life be worthy of the gospel of Christ, so that whether I come and see you or am absent, I may hear of you that you are standing firm in one spirit, with one mind striving side by side for the faith of the gospel."
Sportsmanship involves living in a manner consistent with the teachings of Christ. This verse encourages athletes to strive together in unity, working toward a common goal with a shared purpose, promoting solidarity and a positive witness.
Matthew 5:9
"Blessed are the peacemakers, for they shall be called sons of God."
Sportsmanship calls for a commitment to peace and reconciliation. This verse reminds athletes of the importance of pursuing peace, seeking resolution, and fostering harmony in their interactions with others.
Proverbs 15:1
"A soft answer turns away wrath, but a harsh word stirs up anger."
In the heat of competition, our words can have a significant impact. This verse encourages athletes to respond with gentleness and humility, diffusing conflict and promoting understanding instead of escalating tensions.
1 Peter 3:15
"But in your hearts honor Christ the Lord as holy, always being prepared to make a defense to anyone who asks you for a reason for the hope that is in you; yet do it with gentleness and respect."
Sportsmanship provides an opportunity to reflect Christ's character in our actions and attitudes. This verse urges athletes to be ready to share their faith with others, doing so with gentleness and respect, inviting curiosity and opening doors for meaningful conversations.
Proverbs 27:19
"As in water face reflects face, so the heart of man reflects the man."
Sportsmanship reflects the condition of our hearts. This verse reminds athletes that their attitudes, actions, and treatment of others in the sporting arena reveal the state of their character and integrity.
Psalm 133:1
"Behold, how good and pleasant it is when brothers dwell in unity!"
Sportsmanship flourishes in an environment of unity and teamwork. This verse highlights the beauty and desirability of people coming together in harmony, supporting one another in pursuit of a shared goal.
Matthew 22:39
"And a second is like it: You shall love your neighbor as yourself."
Sportsmanship is rooted in love and respect for one another. This verse emphasizes the importance of treating others with the same care and consideration we have for ourselves, fostering an atmosphere of goodwill and encouragement.
1 Corinthians 16:14
"Let all that you do be done in love."
Love should permeate every aspect of sportsmanship. This verse encourages athletes to approach their sport with love as the guiding principle, influencing their actions, attitudes, and interactions with others.
Remember, true sportsmanship goes beyond the game itself. It involves displaying integrity, respect, kindness, and humility in all circumstances. May these verses inspire athletes to embrace sportsmanship as a means to honor God, build positive relationships, and leave a lasting impact on and off the field.
What is Sportsmanship and Its Attributes
Sportsmanship is more than just playing by the rules; it's an embodiment of humility, respect, and fairness. At its core, it represents the qualities that distinguish a true athlete – not just in skill, but in character.
A good sportsman displays attributes such as humility, acknowledging their strengths without diminishing their opponents; perseverance, maintaining a positive attitude even in the face of challenges; and respect, treating all individuals involved in the game with courtesy.
What does the Bible say about Sportsmanship?
While the Bible does not directly mention sportsmanship in the modern sense, it contains principles and teachings that can be applied to the concept of sportsmanship. Sportsmanship, in essence, refers to displaying fairness, respect, integrity, and graciousness in sports or competition.
Love Your Neighbor: The Bible emphasizes loving your neighbor as yourself (Matthew 22:39). This teaching encourages treating others with respect and kindness, even in the context of sports. It promotes a sense of fairness and empathy towards fellow competitors.
Do Unto Others: The Golden Rule, found in Matthew 7:12, suggests treating others as you would like to be treated. Applying this principle to sports means showing respect, humility, and fairness towards teammates, opponents, and officials.
Avoiding Cheating and Deception: The Bible condemns dishonesty and deception (Proverbs 12:22, Colossians 3:9). Sportsmanship involves refraining from cheating, lying, or engaging in unethical behavior to gain an advantage.
Humility: Proverbs 27:2 states, "Let another praise you, and not your own mouth; someone else, and not your own lips." Sportsmanship requires humility, recognizing that achievements should not be boasted about excessively and respecting others' skills and accomplishments.
Control of Emotions: The Bible encourages self-control (Galatians 5:22-23). In sports, this means avoiding aggressive or unsportsmanlike behavior, such as trash-talking, fighting, or showing excessive anger towards opponents or officials.
Grace in Victory and Defeat: Romans 12:15 advises believers to "rejoice with those who rejoice and weep with those who weep." Sportsmanship involves showing grace and humility in both victory and defeat, acknowledging the efforts of others and offering encouragement when needed.
Unity and Teamwork: The Bible speaks about unity and working together as a team (1 Corinthians 12:12-27). Applying this to sports means supporting teammates, fostering a sense of camaraderie, and recognizing that sports are not solely about individual achievement.
While the Bible may not explicitly mention sportsmanship, its teachings provide a solid foundation for understanding and practicing virtues that align with the spirit of sportsmanship. By following these principles, athletes can enrich their sporting experiences, build character, and positively impact those around them.
Applying Biblical Sportsmanship in Today's World
In today's competitive landscape, it's easy to prioritize winning above all else. However, the biblical approach to sportsmanship encourages character development, respect for one another, and the pursuit of excellence with humility.
By emphasizing these values, we create an environment that fosters personal growth and healthy competition, which benefits both individuals and the broader sports community.
Conclusion
In a world often driven by victories and accolades, embracing sportsmanship guided by the wisdom of the Bible offers a profound shift in perspective. By adhering to the principles of humility, respect, and integrity, athletes, coaches, and fans can contribute to a sports culture that nurtures character and spirit.
Let us remember that the essence of sportsmanship lies not solely in winning, but in the journey of becoming better individuals through competition, unity, and respect.