Patience is an invaluable virtue that all of us should seek to master. It takes effort and perseverance to cultivate patience, but the rewards are endless.
The Bible is a valuable source for all of us to gain insight into how having patience and perseverance in our lives leads to a better, fuller life. Let's take a look at some inspiring passages from the Bible about patience and endurance.
Also Read: Top 25 Bible Verses About Dying (With Commentary)
Bible Verses About Patience and Perseverance
1. Romans 12:12
"Be joyful in hope, patient in affliction, faithful in prayer."
This verse reminds us to remain patient in times of trouble or suffering. It encourages us to have hope, find joy, and stay faithful in our prayers, even when faced with adversity. Patience allows us to endure and persevere, knowing that God is with us and will guide us through difficult times.
2. James 1:3-4
"Because you know that the testing of your faith produces perseverance. Let perseverance finish its work so that you may be mature and complete, not lacking anything."
Trials and challenges test our faith, and this verse teaches us that they serve a purpose – to develop perseverance. Through perseverance, our character is strengthened and we become more mature in our walk with God. This verse encourages us to embrace these tests and allow perseverance to do its work in us.
3. Hebrews 6:12
"We do not want you to become lazy, but to imitate those who through faith and patience inherit what has been promised."
Patience is a vital virtue for believers. This verse reminds us to be patient and faithful, as it is through these qualities that we inherit the promises of God. We are encouraged to look to the examples of those who have gone before us and patiently trust in God's timing and faithfulness to fulfill His promises.
4. Galatians 6:9
"Let us not become weary in doing good, for at the proper time we will reap a harvest if we do not give up."
Perseverance is necessary in living a life that honors God. This verse reminds us to persist in doing good even when we face challenges or discouragement. It assures us that if we do not give up, we will eventually see the fruit of our efforts. Having patience and perseverance allow us to continue doing good, knowing that our labor is not in vain.
5. Proverbs 14:29
"Whoever is patient has great understanding, but one who is quick-tempered displays folly."
Patience is linked to wisdom and understanding. This verse emphasizes the importance of cultivating patience in ourselves. When we are patient, we demonstrate wisdom and self-control. Impatience, on the other hand, leads to unwise decisions and prevents us from fully understanding a situation. This verse encourages us to choose patience and gain the benefits of increased understanding.
6. Colossians 1:11
"Being strengthened with all power according to his glorious might so that you may have great endurance and patience."
Through the power of God, we are given the ability to endure and exhibit patience. This verse highlights the importance of relying on God's strength to develop endurance and patience in our lives. It is by God's might that we are able to persevere through trials and patiently wait for His plans to unfold.
7. Romans 5:3-4
"Not only so, but we also glory in our sufferings, because we know that suffering produces perseverance; perseverance, character; and character, hope."
Suffering, though difficult, has the potential to produce perseverance in our lives. This verse teaches us that perseverance leads to character development and ultimately fosters hope. The trials we face can shape us into stronger individuals who rely on God's promises and have hope in His faithfulness. It encourages us to embrace the refining process that comes through perseverance.
8. Ecclesiastes 7:8
"The end of a matter is better than its beginning, and patience is better than pride."
This verse emphasizes the value of patience over pride. The outcomes of our endeavors are often more satisfying when achieved through patience and perseverance. It warns against impatience and the desire for instant gratification, reminding us to appreciate the process and the growth that comes with patiently enduring challenges.
9. Psalm 37:7
"Be still before the Lord and wait patiently for him; do not fret when people succeed in their ways, when they carry out their wicked schemes."
Patience involves waiting on the Lord and trusting His timing. This verse encourages us to be still and patiently wait on God's plans to unfold. It warns against becoming envious or fretting when others seem to prosper through unrighteous means. Instead, we are reminded to focus on our own faithfulness and trust in God's justice.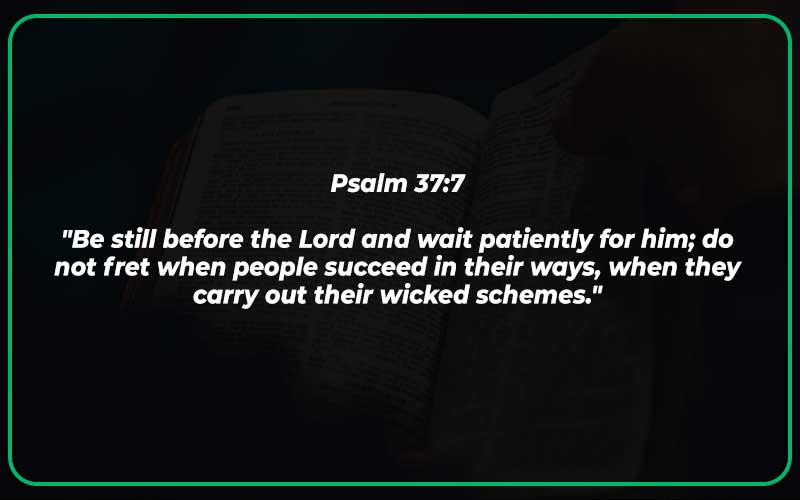 10. 2 Thessalonians 3:5
"May the Lord direct your hearts into God's love and Christ's perseverance."
Perseverance is connected to the love of God and the example of Christ. This verse expresses a prayer for the Lord to guide our hearts into experiencing His love, which in turn fuels our perseverance. It reminds us that we can endure and persist because of the love and example set by Jesus Christ.
11. Proverbs 16:32
"Better a patient person than a warrior, one with self-control than one who takes a city."
This verse highlights the strength and power of patience. It teaches that a patient person, who exercises self-control, is more valuable and powerful than a warrior who conquers cities. Implying that patience and perseverance demonstrate inner strength and wisdom that go beyond mere physical conquest.
12. Hebrews 10:36
"You need to persevere so that when you have done the will of God, you will receive what he has promised."
Perseverance is crucial in fulfilling the will of God. This verse encourages us to continue enduring in our faith and obedience, knowing that our perseverance will lead to receiving the promises God has made. It encourages us to remain steadfast even when we face obstacles or delays, for our reward is found in God's faithfulness.
13. Lamentations 3:25-26
"The Lord is good to those whose hope is in him, to the one who seeks him; it is good to wait quietly for the salvation of the Lord."
Waiting patiently for the Lord and seeking Him is rewarded with His goodness and salvation. This verse reminds us that it is good to place our hope in God and trust in His timing. When we patiently wait and seek Him, we experience His faithfulness and receive the blessings He has prepared for us.
14. Psalm 40:1-2
"I waited patiently for the Lord; he turned to me and heard my cry. He lifted me out of the slimy pit, out of the mud and mire; he set my feet on a rock and gave me a firm place to stand."
Waiting on the Lord with patience leads to His deliverance. This verse portrays a personal testimony of patiently waiting for God's intervention and experiencing His rescue. It reminds us that when we trust in God's timing and persist in prayer, He will answer and provide firm ground to stand on, even in the midst of challenging circumstances.
15. Hebrews 12:1
"Therefore, since we are surrounded by such a great cloud of witnesses, let us throw off everything that hinders and the sin that so easily entangles. And let us run with perseverance the race marked out for us."
Perseverance is likened to running a race. This verse encourages us to lay aside anything that hinders our progress and pushes us toward sin. It urges us to run the race marked out for us with perseverance, just as those who have gone before us did. Patience and endurance are needed to remain faithful and finish the race set before us.
16. 2 Peter 1:6
"and to knowledge, self-control; and to self-control, perseverance; and to perseverance, godliness;"
Perseverance is listed as a virtue to be developed in a believer's life. This verse teaches a progression of character traits, starting with knowledge and leading to godliness, with self-control and perseverance in between. It emphasizes the importance of developing patience and perseverance, building a foundation for a godly life.
17. Psalm 130:5
"I wait for the Lord, my whole being waits, and in his word, I put my hope."
Waiting for the Lord and putting hope in His word leads to fulfillment. This verse expresses a deep sense of waiting patiently for the Lord, with all aspects of one's being. It reminds us that true hope is found in God's promises and assures us that as we patiently wait, He will bring about His plans and provide for our needs.
18. 1 Corinthians 13:7
"It always protects, always trusts, always hopes, always perseveres."
Perseverance is an attribute of love. This verse is from the famous "love chapter" of the Bible and affirms that love perseveres under all circumstances. It implies that love is not easily discouraged or deterred, but rather endures and remains steadfast. It teaches us to incorporate perseverance into our relationships and interactions, reflecting the enduring love of Christ.
19. Proverbs 24:16
"for though the righteous fall seven times, they rise again, but the wicked stumble when calamity strikes."
The righteous may face setbacks and difficulties, but their perseverance enables them to rise again. This verse portrays a contrast between the righteous and the wicked. It assures us that even when the righteous experience failure or stumbling, their perseverance allows them to recover and continue. It emphasizes the importance of not giving up even when we face challenges, for with God's help, we can overcome and continue moving forward.
20. Psalm 27:14
"Wait for the Lord; be strong and take heart and wait for the Lord."
Patience and strength are intertwined in waiting on the Lord. This verse encourages us to wait on God with strength and courage. It reminds us that waiting on the Lord requires perseverance, as our trust in Him allows us to be strong and take heart. Patience is not passivity but an active choice to rely on God's faithfulness and to endure until we see His plans unfold.
21. Revelation 3:10
"Since you have kept my command to endure patiently, I will also keep you from the hour of trial that is going to come on the whole world to test the inhabitants of the earth."
Patience and endurance are rewarded and protected by God. This verse speaks to the church in Philadelphia, commending their patient endurance. It assures them that because they have faithfully endured, God will protect them from a future trial. This verse encourages us to trust in God's promise to guard and sustain us as we patiently persevere in obedience to His commands.
22. Romans 8:25
"But if we hope for what we do not yet have, we wait for it patiently."
Patience is connected to hope. This verse reminds us that as we hope for the fulfillment of God's promises, we are called to wait patiently. Patience goes hand in hand with trusting God's timing and confidently anticipating what we have not yet seen. It encourages us to cultivate patience in our faith journey, knowing that the things we hope for will come to pass in God's perfect timing.
23. Isaiah 40:31
"but those who hope in the Lord will renew their strength. They will soar on wings like eagles; they will run and not grow weary, they will walk and not be faint."
Those who patiently wait on the Lord find renewed strength. This verse assures us that as we put our hope and trust in God, He will provide us with the necessary strength to persevere. It paints a powerful picture of God's faithfulness and the endurance that comes from patiently relying on Him. Just as eagles soar effortlessly, we can run and walk without growing weary when we patiently put our hope in the Lord.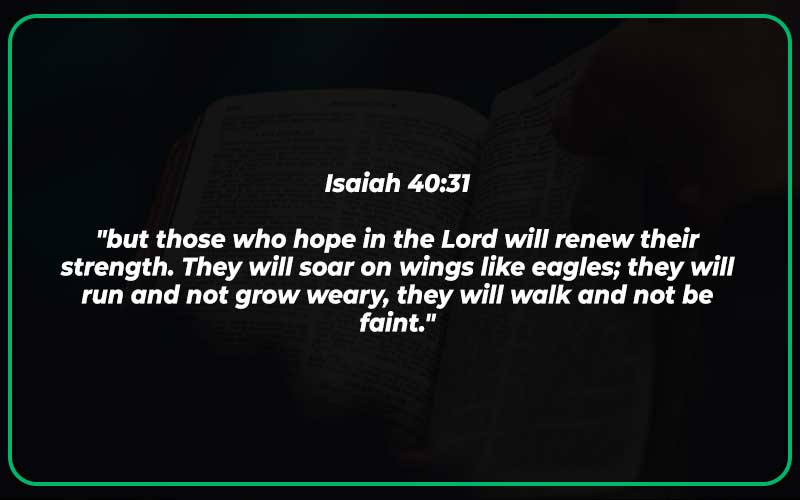 24. Psalm 37:9
"For those who are evil will be destroyed, but those who hope in the Lord will inherit the land."
The patient hope of the righteous leads to blessings. This verse highlights the contrast between the fate of the wicked and the faithful. It assures us that those who patiently place their hope in the Lord will ultimately inherit His blessings. It encourages us to hold onto our hope in God's promises, even when it seems that wickedness is prospering.
"But you, man of God, flee from all this, and pursue righteousness, godliness, faith, love, endurance and gentleness."
Commentary: Perseverance is a characteristic to actively pursue. This verse instructs believers to flee from ungodliness and instead pursue qualities such as righteousness, godliness, and endurance. It reminds us that perseverance is not passive but requires intentional pursuit. It motivates us to actively cultivate endurance in our Christian walk, holding steadfastly to our faith and continuing to follow Christ's example.
What does the Bible say about Patience and Perseverance?
Patience and perseverance are virtues emphasized throughout the Bible, demonstrating the importance of enduring challenges and waiting for God's timing. These qualities are often intertwined and are presented as essential for spiritual growth, character development, and maintaining a strong faith.
Patience is depicted as the ability to remain calm and steadfast in the face of difficulties, trusting that God's plan will unfold in due time. It involves waiting without complaining or growing weary. The Bible teaches that patience leads to a stronger relationship with God and a deeper understanding of His wisdom and goodness.
Perseverance, on the other hand, refers to the act of persisting in one's efforts and beliefs despite obstacles, hardships, or setbacks. It is closely linked to endurance and determination. The Bible highlights perseverance as a key trait for believers, urging them to stand firm in their faith even in the midst of trials.
Throughout various stories and teachings in the Bible, individuals and communities are praised for their patience and perseverance. For instance, the story of Job demonstrates profound patience in the face of immense suffering, while the Israelites' journey through the wilderness underscores the importance of perseverance in following God's guidance even during challenging times.
The New Testament also emphasizes the significance of patience and perseverance. The apostle Paul frequently speaks about enduring hardships for the sake of the gospel and encourages believers to run the race of faith with endurance. Additionally, the book of James emphasizes the growth that comes through trials and the importance of patience in waiting for the Lord's return.
In summary, the Bible underscores the value of patience and perseverance as qualities that enable believers to navigate life's challenges while maintaining their faith and trust in God's divine plan. These virtues contribute to personal growth, spiritual maturity, and a closer relationship with God.