Are you looking for a source of encouragement and joy in your life? The Bible is full of wonderful verses that remind us to rejoice and be thankful.
Today, we will explore some uplifting bible verses about rejoicing that can bring warmth to your heart while lifting up spirits. Let's take a look at some encouraging words from God!
Bible Verses About Rejoicing
Rejoicing is a powerful emotion that is often mentioned in the Bible. It is a feeling of great joy, happiness, and celebration that comes from a deep appreciation of God's goodness and blessings. Here are 25 Bible verses about rejoicing.
Rejoicing in God's Salvation
As Christians, we know that the salvation God offers us is something to be celebrated. Through Jesus Christ's sacrifice on the cross, we are saved from sin and its consequences. This great gift of salvation is at the heart of the Christian faith and gives us reason to live our lives with joy and thanksgiving.
There are many ways that Christians express their gratitude for this wonderful salvation. Some lift their voices in worship, singing praises and offering prayers of thanks. Others desire to share the good news with others so that they too can know this joy and transformation.
However, rejoicing in God's salvation is not simply an emotional response. Rather, it's a deep appreciation for the spiritual journey that brought us to redemption and growth in our relationship with God.
This journey often involves self-reflection, repentance, and a renewed commitment to living our lives in accordance with Jesus Christ's teachings.
In essence, celebrating God's salvation is an acknowledgment of the amazing transformation that we experience when we accept Jesus as their Savior. This transformation not only fills us with joy but also inspires us to be a light to others, sharing this joy with them and living a life that reflects God's grace and love.
Habakkuk 3:18
"yet I will rejoice in the Lord, I will be joyful in God my Savior."
Psalm 51:12
"Restore to me the joy of your salvation and grant me a willing spirit, to sustain me."
Luke 15:10
"In the same way, I tell you, there is rejoicing in the presence of the angels of God over one sinner who repents."
Acts 2:46-47
"Every day they continued to meet together in the temple courts. They broke bread in their homes and ate together with glad and sincere hearts, praising God and enjoying the favor of all the people. And the Lord added to their number daily those who were being saved."
Philippians 4:4
"Rejoice in the Lord always. I will say it again: Rejoice!"
Also Read: 30 Important Bible Verses About Treasure
Rejoicing in God's Blessings
We firmly hold that every blessing, whether material or spiritual, comes from God. Our hearts overflow with joy whenever we count the numerous ways in which God provides and enriches our lives. Taking a moment to rejoice in these blessings is a beautiful way to remain grateful and humble, knowing that they are all God's doing.
In addition to being grateful, we must also understand that we do not earn or deserve these blessings. Instead, they are a reflection of God's never-ending love and favor. Recognizing this truth allows us to deepen our appreciation for what we have and remain content.
Through rejoicing in God's blessings, we are also prompted to be generous and share our blessings with others. By being thankful and giving back to our community, we demonstrate God's love and care for everyone, especially those who may be struggling.
Psalm 118:24
"The Lord has done it this very day; let us rejoice today and be glad."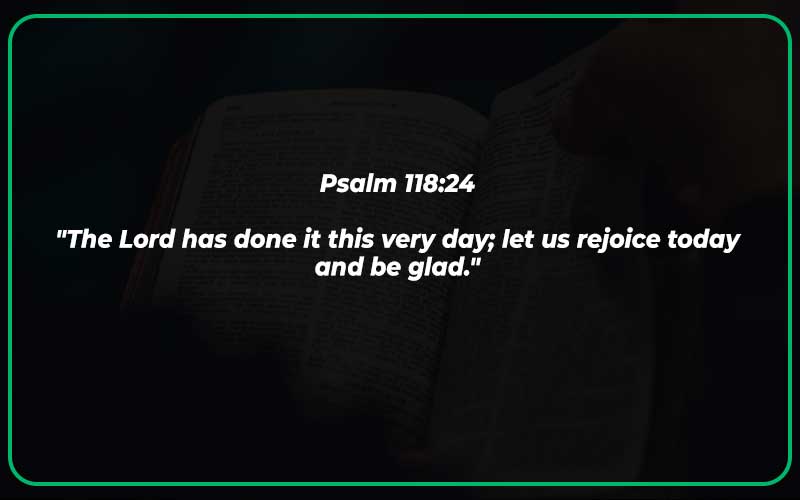 Psalm 126:3
"The Lord has done great things for us, and we are filled with joy."
Proverbs 15:23
"A person finds joy in giving an apt reply— and how good is a timely word!"
James 1:2-3
"Consider it pure joy, my brothers and sisters, whenever you face trials of many kinds, because you know that the testing of your faith produces perseverance."
1 Peter 1:6-7
"In all this you greatly rejoice, though now for a little while you may have had to suffer grief in all kinds of trials. These have come so that the proven genuineness of your faith—of greater worth than gold, which perishes even though refined by fire—may result in praise, glory and honor when Jesus Christ is revealed."
Rejoicing in God's Presence
As followers of Christ, we know that being in the presence of God is of great importance. We desire to have a close relationship with our Creator, and we acknowledge and value the many ways that God is at work in our lives.
We experience God's presence through prayer, worship, and studying the Bible. These activities allow us to encounter God in a personal way that transforms us from within. Rejoicing in God's presence is a celebration of the special connection we have with God, and a way to show gratitude for the comfort, guidance, and strength that He gives us.
Moreover, we can recognize God's presence even in our day-to-day activities. Acknowledging God's presence in the ordinary moments of life helps us to live with a sense of appreciation, wonder, and awareness of the sacredness of all things.
Psalm 16:11
"You make known to me the path of life; you will fill me with joy in your presence, with eternal pleasures at your right hand."
Psalm 27:6
"Then my head will be exalted above the enemies who surround me; at his sacred tent I will sacrifice with shouts of joy; I will sing and make music to the Lord."
Psalm 95:1-2
"Come, let us sing for joy to the Lord; let us shout aloud to the Rock of our salvation. Let us come before him with thanksgiving and extol him with music and song."
Isaiah 12:6
"Shout aloud and sing for joy, people of Zion, for great is the Holy One of Israel among you."
Luke 10:21
"At that time Jesus, full of joy through the Holy Spirit, said, 'I praise you, Father, Lord of heaven and earth, because you have hidden these things from the wise and learned, and revealed them to little children. Yes, Father, for this is what you were pleased to do.'"
Rejoicing in God's Word
The Bible is a special book for Christians because it is God's inspired Word. As a result, it plays an important role in guiding and instructing the faithful.
To rejoice in God's Word, believers should study it regularly and reflect on its teachings so that they can apply them to their daily lives. This approach helps them deepen their understanding of God and strengthens their faith.
As we engage with the Bible, we also experience personal growth and spiritual development, becoming more like Christ in character and action.
The transformative power of Scripture is something to be celebrated and gives thanks to, as it demonstrates the significant and positive impact of God's Word on believers' lives.
Furthermore, Christians should share the insights and teachings gained from the Bible with others. This practice creates a sense of community among believers and helps them foster connections with others.
It also serves as a means of spreading the Gospel message and nurturing the faith of others.
Psalm 119:14-16
"I rejoice in following your statutes as one rejoices in great riches. I meditate on your precepts and consider your ways. I delight in your decrees; I will not neglect your word."
Psalm 119:111
"Your statutes are my heritage forever; they are the joy of my heart."
Isaiah 55:10-11
"As the rain and the snow come down from heaven, and do not return to it without watering the earth and making it bud and flourish, so that it yields seed for the sower and bread for the eater, so is my word that goes out from my mouth: It will not return to me empty, but will accomplish what I desire and achieve the purpose for which I sent it."
Jeremiah 15:16
"When your words came, I ate them; they were my joy and my heart's delight, for I bear your name, Lord God Almighty."
Luke 11:28
"He replied, 'Blessed rather are those who hear the word of God and obey it.'"
Also Read: Top 33 Bible Verses About Joy to Lift Your Spirit
Rejoicing in God's Works
As Christians, it's important for us to celebrate and appreciate the many ways God reveals Himself in our lives and the world around us. We can do this by recognizing His handiwork in nature and the provision He gives us each day.
Furthermore, rejoicing in God's works means celebrating our spiritual growth and development as we become more like Christ. This process of sanctification is a source of encouragement and inspiration, urging us to continue on our spiritual journey with joy.
And let's not forget to celebrate the work God is doing in the lives of our fellow believers. We can be grateful for their growth and the impact of God's work in their lives. Let us never tire of rejoicing in all God is doing in us and through us, as we continue to glorify Him together.
Psalm 92:4-5
"For you make me glad by your deeds, Lord; I sing for joy at what your hands have done. How great are your works, Lord, how profound your thoughts!"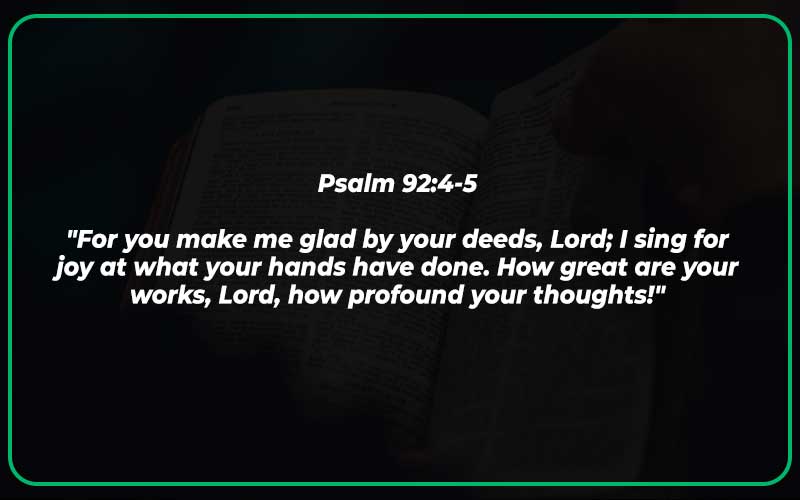 Psalm 104:31
"May the glory of the Lord endure forever; may the Lord rejoice in his works."
Psalm 145:7-8
"They celebrate your abundant goodness and joyfully sing of your righteousness. The Lord is gracious and compassionate, slow to anger and rich in love."
Isaiah 12:4-5
"In that day you will say: 'Give praise to the Lord, proclaim his name; make known among the nations what he has done, and proclaim that his name is exalted. Sing to the Lord, for he has done glorious things; let this be known to all the world.'"
Habakkuk 3:17-18
"Though the fig tree does not bud and there are no grapes on the vines, though the olive crop fails and the fields produce no food, though there are no sheep in the pen and no cattle in the stalls, yet I will rejoice in the Lord, I will be joyful in God my Savior."
Final thoughts
The Bible teaches that rejoicing is a vital component of our faith. This joy can take many forms, such as celebrating God's blessings, His presence in our lives, His Word, and His deeds.
Through our rejoicing, we can grow closer to God, develop an attitude of thankfulness and humbleness, and strive to live a life that exemplifies the teachings of Jesus Christ.