Traveling opens our eyes to new cultures, landscapes, and experiences. Did you know that the Bible contains verses that touch upon the theme of travel?
In this blog post, we will explore these verses, uncovering the spiritual insights and lessons they offer to the curious wanderer.
From the pilgrimages of faith to the transformative power of journeying, these verses will inspire you to embark on your own spiritual expedition.
So, join us on this adventurous exploration through the pages of the Bible.
Also Read: Bible Verses About Victory
Bible Verses About Travel
Genesis 12:1-2
Now the Lord said to Abram, "Go from your country and your kindred and your father's house to the land that I will show you. And I will make of you a great nation, and I will bless you and make your name great, so that you will be a blessing."
God instructs Abram to leave his home and travel to a new land, where he will be blessed and become the father of many nations. This verse highlights the importance of trusting God's guidance and being willing to go on a journey of faith.
Exodus 13:21-22
And the Lord went before them by day in a pillar of cloud to lead them along the way, and by night in a pillar of fire to give them light, that they might travel by day and by night. The pillar of cloud by day and the pillar of fire by night did not depart from before the people.
During the Israelites' journey through the wilderness, God leads them through a pillar of cloud by day and a pillar of fire by night. This verse emphasizes the importance of relying on God's guidance and protection during a journey.
Psalm 121:7-8
The Lord will keep you from all evil; he will keep your life. The Lord will keep your going out and your coming in from this time forth and forevermore.
This verse encourages travelers to trust that God will keep them safe and protect them from harm. It highlights the importance of relying on God's sovereignty while on a journey.
Proverbs 3:5-6
Trust in the Lord with all your heart, and do not lean on your own understanding. In all your ways acknowledge him, and he will make straight your paths.
This verse reminds travelers to trust in God completely and not rely on their own understanding. It emphasizes the importance of seeking God's guidance and wisdom while on a journey.
Matthew 28:19-20
Go therefore and make disciples of all nations, baptizing them in the name of the Father and of the Son and of the Holy Spirit, teaching them to observe all that I have commanded you. And behold, I am with you always, to the end of the age."
This verse challenges travelers to go out and share the gospel with others, making disciples of all nations. It emphasizes the importance of using travel as an opportunity to spread God's love and message to others.
Acts 16:9-10
And a vision appeared to Paul in the night: a man of Macedonia was standing there, urging him and saying, "Come over to Macedonia and help us." And when Paul had seen the vision, immediately we sought to go on into Macedonia, concluding that God had called us to preach the gospel to them.
In this verse, Paul receives a vision calling him to travel to Macedonia to share the gospel. It highlights the importance of listening to God's calling and being willing to travel to new places to spread His message.
Hebrews 11:8
By faith Abraham obeyed when he was called to go out to a place that he was to receive as an inheritance. And he went out, not knowing where he was going.
Abraham's obedience to God led him on a journey without knowing where he was going. This verse emphasizes the importance of trust and faith in God's plan while on a journey.
Revelation 21:2-4
And I saw the holy city, new Jerusalem, coming down out of heaven from God, prepared as a bride adorned for her husband. And I heard a loud voice from the throne saying, "Behold, the dwelling place of God is with man. He will dwell with them, and they will be his people, and God himself will be with them as their God. He will wipe away every tear from their eyes, and death shall be no more, neither shall there be mourning, nor crying, nor pain anymore, for the former things have passed away."
This verse provides hope for travelers, reminding them of the ultimate destination and end goal of their journey – eternity with God in a new heaven and new earth, free of pain and suffering.
Psalm 23:4
Even though I walk through the valley of the shadow of death, I will fear no evil, for you are with me; your rod and your staff, they comfort me.
In this verse, the psalmist acknowledges the difficulties of a journey through the valley of the shadow of death. However, they find comfort in the presence of God who leads and protects them.
Isaiah 41:10
Fear not, for I am with you; be not dismayed, for I am your God; I will strengthen you, I will help you, I will uphold you with my righteous right hand.
This verse encourages travelers to not fear or be discouraged, but to trust in God who promises to strengthen, help, and uphold them during their journey.
Deuteronomy 31:8
The Lord himself goes before you and will be with you; he will never leave you nor forsake you. Do not be afraid; do not be discouraged."
Before the Israelites enter the Promised Land, God assures them that He will never leave or forsake them. This verse reminds travelers that God goes before them and promises to always be with them.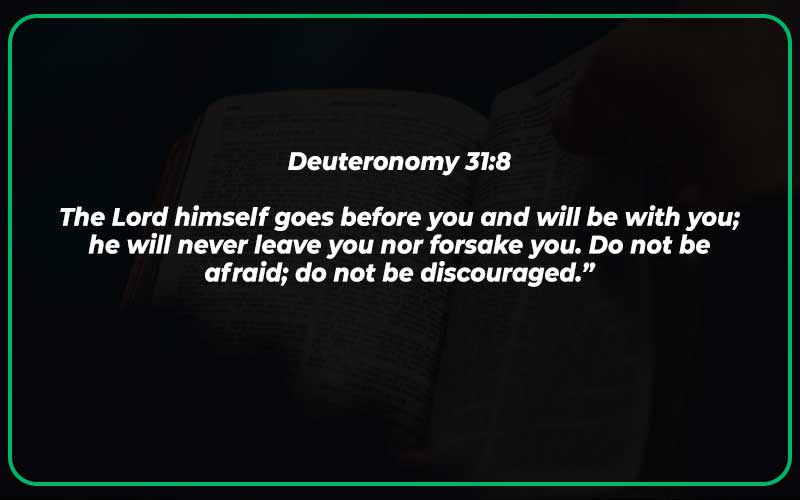 Romans 8:28
And we know that for those who love God all things work together for good, for those who are called according to his purpose.
This verse provides comfort for travelers, knowing that no matter what circumstances or obstacles they may face on their journey, God can work it all for their good according to His purpose.
Joshua 1:9
Have I not commanded you? Be strong and courageous. Do not be frightened, and do not be dismayed, for the Lord your God is with you wherever you go."
This verse encourages travelers to be strong and courageous, trusting that God is with them no matter where their journey takes them.
Mark 16:15
And he said to them, "Go into all the world and proclaim the gospel to the whole creation.
This verse challenges travelers to go out into the world and share the gospel message of salvation and hope to all people.
Jeremiah 29:11
For I know the plans I have for you, declares the Lord, plans for welfare and not for evil, to give you a future and a hope.
This verse assures travelers that God has plans for their journey that are for their good and future hope.
Matthew 2:1-2
Now after Jesus was born in Bethlehem of Judea in the days of Herod the king, behold, wise men from the east came to Jerusalem, saying, "Where is he who has been born king of the Jews? For we saw his star when it rose and have come to worship him."
The wise men traveled from the east to worship Jesus, following the star as their guide. This verse shows the importance of seeking and pursuing Jesus, even if it requires a journey.
Psalm 84:5-7
Blessed are those whose strength is in you, in whose heart are the highways to Zion. As they go through the Valley of Baca they make it a place of springs; the early rain also covers it with pools. They go from strength to strength; each one appears before God in Zion.
This verse highlights the blessings that come from traveling towards Jerusalem, a symbol of God's presence and dwelling place. It also emphasizes the transformation that takes place during the journey, turning difficult situations into opportunities for growth and refreshment.
Acts 9:3-4
Now as he went on his way, he approached Damascus, and suddenly a light from heaven shone around him. And falling to the ground, he heard a voice saying to him, "Saul, Saul, why are you persecuting me?"
This verse recounts the dramatic conversion of Saul, who was traveling on the road to Damascus when he encountered the risen Jesus. It highlights how God can use travel experiences to bring about life-changing encounters and transformations.
What is the best Bible verse for traveling?
One of the most comforting and widely known Bible verses for traveling is Psalm 121:7-8:
The Lord will keep you from all harm— he will watch over your life; the Lord will watch over your coming and going both now and forevermore.
This verse reminds travelers that God is their ultimate protector and that they can place their trust in Him during their journey. It assures them that God is aware of their movements and will safeguard them from harm, both in their present journey and for all time.
What does God say about traveling?
Throughout the Bible, there are various passages that mention travel and journeys, providing insight into God's perspective on this aspect of human life. One such passage is found in Proverbs 16:9:
In their hearts, humans plan their course, but the Lord establishes their steps.
This verse reminds us that while we may make our own travel plans, ultimately, it is God who guides and directs our paths. It acknowledges that our journeys are subject to God's sovereign will and that we should seek His guidance and trust in His providence throughout our travels.
What is the Prayer verse for travel?
A powerful prayer verse for travel can be found in Psalm 139:9-10:
If I rise on the wings of the dawn, if I settle on the far side of the sea, even there your hand will guide me, your right hand will hold me fast.
This prayer acknowledges God's omnipresence, recognizing that no matter how far we may travel, God's guiding hand will be with us. It demonstrates humility and reliance on God's constant presence and protection throughout the journey, seeking His guidance to lead us to safe and fruitful destinations.
What is the safe journey verse?
A comforting verse that specifically asks for a safe journey can be found in 3 John 1:2:
Dear friend, I pray that you may enjoy good health and that all may go well with you, even as your soul is getting along well.
Though not exclusively mentioning travel, this verse reflects the essence of a safe journey – one where both physical well-being and spiritual prosperity are assured. It serves as a reminder that safety during travel involves more than just physical protection; it encompasses overall well-being, including emotional and spiritual aspects.
Conclusion
The Bible offers a wealth of wisdom and reassurance for those embarking on journeys, whether for pilgrimage, exploration, or other purposes. The verses mentioned above serve as a source of comfort, guidance, and inspiration for travelers, reminding them of God's protection, presence, and sovereign plan.
Traveling with God is not merely a physical movement but a spiritual journey of faith and trust. As we navigate through the uncertainties of life's travels, may these verses remind us to seek God's guidance, embrace His presence, and find assurance in His unwavering protection. By doing so, we can approach every journey with a heart full of hope, knowing that we are never alone, and that God's love and care will accompany us every step of the way.