Hey there! Life has its fair share of ups and downs, doesn't it? Just when we think things are going smoothly, trials and tribulations come knocking at our door.
It's during these challenging times that we often seek solace and guidance from something greater than ourselves. And what better place to turn to than the Bible? This sacred book is a treasure trove of wisdom, offering words of comfort, encouragement, and strength.
Today, we're diving straight into the heart of the matter by exploring some remarkable Bible verses about trials and tribulations.
So, whether you're facing personal struggles, professional setbacks, or simply looking to understand adversity better, stick around because we're about to uncover some powerful gems that will uplift your spirits and remind you that even in the midst of trials, there is hope.
Also Read: Bible Verses About Sexual Immorality
Bible Verses About Trials And Tribulations
1. James 1:2-3
"Consider it pure joy, my brothers and sisters, whenever you face trials of many kinds, because you know that the testing of your faith produces perseverance."
Trials and tribulations are an inevitable part of life, but the Bible teaches us to find joy in them. This verse instructs us to see trials as an opportunity for growth and development. When our faith is tested, it strengthens our perseverance, making us resilient and steadfast. We can take comfort in knowing that our challenges have a purpose and are not without meaning.
2. 2 Corinthians 4:17
"For our light and momentary troubles are achieving for us an eternal glory that far outweighs them all."
In times of trials and tribulations, it's crucial to remember that our earthly struggles are temporary. This verse reminds us that whatever trials we face now pale in comparison to the eternal glory that awaits us. By enduring these temporary hardships with faith and patience, we grow spiritually and prepare ourselves for the eternal blessings that God has promised us.
3. Psalm 34:19
"The righteous person may have many troubles, but the LORD delivers him from them all."
This verse assures us that, as believers, we will face troubles and tribulations in life. However, we can find comfort in knowing that the Lord promises to deliver us from them all. Even during our darkest moments, God is with us, providing comfort, strength, and guidance. Our faith in Him allows us to face trials with confidence, knowing that He is ultimately in control.
4. John 16:33
"I have told you these things, so that in me you may have peace. In this world, you will have trouble. But take heart! I have overcome the world."
Jesus' words in this verse remind us that trials and tribulations are to be expected in this fallen world. However, as followers of Christ, we can find peace and comfort in Him. He has already overcome the world through His death and resurrection, and we can draw strength from this truth. Regardless of the challenges we face, we have the hope and assurance that Jesus has already secured our victory.
5. Romans 8:18
"I consider that our present sufferings are not worth comparing with the glory that will be revealed in us."
Paul emphasizes in this verse the insignificance of our present sufferings compared to the glorious future that awaits us in Christ. When we face trials and tribulations, it is essential to keep an eternal perspective and not lose heart. While our suffering may feel overwhelming in the present, we can find comfort and strength by reminding ourselves that the glorious future in the presence of God will far surpass anything we endure on earth.
6. Matthew 11:28-30
"Come to me, all you who are weary and burdened, and I will give you rest. Take my yoke upon you and learn from me, for I am gentle and humble in heart, and you will find rest for your souls. For my yoke is easy, and my burden is light."
When facing trials and tribulations, we can find solace in these comforting words of Jesus. He invites us to come to Him for rest and consolation. Rather than trying to carry our burdens alone, Jesus promises to provide the rest our souls need. His yoke, or His way of life, is gentle and light, unlike the burdensome weight of the world. Through faith in Him and His teachings, we find strength and comfort in the midst of our trials.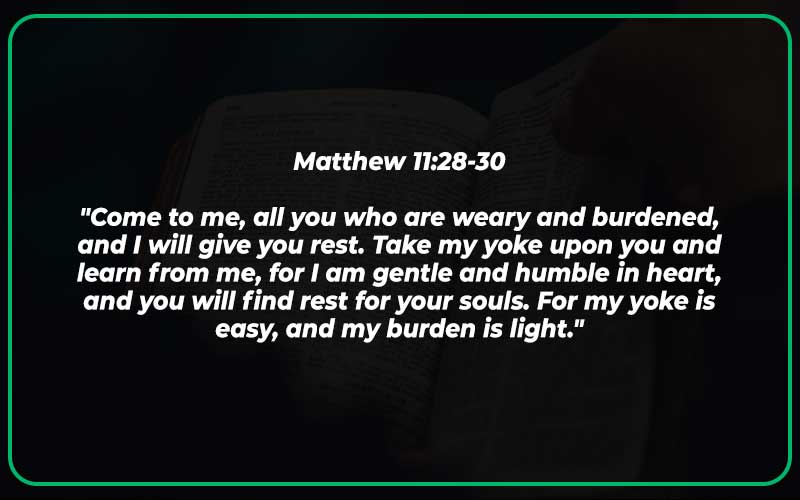 7. Romans 5:3-4
"Not only so, but we also glory in our sufferings because we know that suffering produces perseverance; perseverance, character; and character, hope."
In this verse, Paul teaches us that suffering has a purpose and can lead to positive outcomes in our lives. When we endure trials and tribulations, we develop perseverance and become more resilient. As we continue to endure, our character is refined and developed, allowing us to grow spiritually. Ultimately, these trials produce in us a hope that is grounded in the faithfulness of God. We can rejoice in knowing that our suffering is not in vain but serves to shape us into Christ-like individuals.
8. Isaiah 41:10
"So do not fear, for I am with you; do not be dismayed, for I am your God. I will strengthen you and help you; I will uphold you with my righteous right hand."
When we face trials and tribulations, it is natural to feel fear and discouragement. However, this verse reminds us that we are not alone. God is with us every step of the way, offering His strength and assistance. We can take comfort in knowing that His righteous right hand upholds and supports us through our difficulties. Even in the midst of challenging times, we can trust in the unwavering presence of our loving God.
9. 1 Peter 5:10
"And the God of all grace, who called you to his eternal glory in Christ, after you have suffered a little while, will himself restore you and make you strong, firm, and steadfast."
This verse acknowledges that we will face suffering and trials in this life. However, it also reassures us that God's grace and restoration await us. After enduring the trials for a little while, God Himself will restore, strengthen, and establish us. He uses our suffering to refine us and develop our character. When we walk through trials, we can find comfort in knowing that they are not permanent but are temporary seasons that lead us closer to God and increase our dependence on Him.
10. 2 Thessalonians 3:3
"But the Lord is faithful, and he will strengthen you and protect you from the evil one."
In times of trials and tribulations, it is essential to remember God's faithfulness. This verse assures us that regardless of the trials we face, the Lord remains faithful, standing by our side. We can find strength in His promises and rely on His protection. When challenges arise, we are not left defenseless, for God strengthens and guards us. Trusting in His faithfulness, we can face trials with confidence, knowing that He is always with us.
11. Psalm 23:4
"Even though I walk through the darkest valley, I will fear no evil, for you are with me; your rod and your staff, they comfort me."
This famous psalm offers solace and hope in the midst of trials and tribulations. It reminds us that even when we find ourselves in the darkest valleys of life, we need not fear. God's presence accompanies us through every hardship, providing comfort and guidance. His rod and staff symbolize His guidance, protection, and discipline. As His beloved children, we can find strength and peace, knowing that He is navigating us through the trying times.
12. 1 Corinthians 10:13
"No temptation has overtaken you except what is common to mankind. And God is faithful; he will not let you be tempted beyond what you can bear. But when you are tempted, he will also provide a way out so that you can endure it."
Trials and tribulations come in various forms, including temptations. This verse reminds us that our challenges are not unique; others have experienced similar struggles. Moreover, God is faithful and promises that we will not face temptations that are beyond our ability to withstand. He always provides a way out, enabling us to endure the trials we encounter. Trusting in His faithfulness and relying on His guidance grants us the strength needed to overcome any temptation or trial.
13. Psalm 46:1
"God is our refuge and strength, an ever-present help in trouble."
When faced with trials and tribulations, we can find solace in this comforting verse. God is described as our refuge and strength, a constant presence in our lives. He is our safe haven, a place where we can find peace and security amidst the storm. Whatever trouble we encounter, God is ever-present, offering His help and support. This verse reminds us that we are never alone in our trials; our Heavenly Father is always there to provide the comfort and strength we need.
14. 1 Peter 1:6-7
"In all this you greatly rejoice, though now for a little while you may have had to suffer grief in all kinds of trials. These have come so that the proven genuineness of your faith—of greater worth than gold, which perishes even though refined by fire—may result in praise, glory, and honor when Jesus Christ is revealed."
As believers, we are called to rejoice even in the midst of trials and tribulations. These difficulties are designed to test and prove our faith, revealing its genuine nature. This process is likened to refining gold, which is purified by fire. Our faith, when tested and proven genuine, brings praise, glory, and honor to God. So, though we may experience grief during trials, we can find joy in knowing that our faith is being strengthened, and God will be glorified through it.
15. Romans 12:12
"Be joyful in hope, patient in affliction, faithful in prayer."
This verse encourages us to maintain an attitude of resilience and trust in God during trials and tribulations. We are called to find joy in the hope we have in Christ, knowing that He is with us in every circumstance. Additionally, we are urged to be patient in affliction, enduring with steadfastness and perseverance. Lastly, remaining faithful in prayer allows us to draw near to God, seeking His guidance and strength during challenging times. Through joy, patience, and faithful prayer, we demonstrate our reliance on God and our unwavering trust in His faithfulness.
16. Psalm 50:15
"Call on me in the day of trouble; I will deliver you, and you will honor me."
God promises His deliverance to those who call upon Him during times of trouble. When we face trials and tribulations, we can find comfort and hope in this assurance. God's deliverance may not always look the way we expect or desire, but we can trust in His perfect plan and timing. As we cry out to Him, seeking His help and guidance, He will intervene and bring about deliverance in His own way. His faithfulness in delivering us from trouble deserves honor and praise.
17. Isaiah 43:2
"When you pass through the waters, I will be with you; and when you pass through the rivers, they will not sweep over you. When you walk through the fire, you will not be burned; the flames will not set you ablaze."
This verse reminds us that God is with us in the midst of trials and tribulations. No matter how overwhelming or intense the circumstances may be, He promises to protect and preserve us. The image of passing through water and fire symbolizes the challenges that we face in life. Despite the turbulent waters or fiery trials, God assures us that we will not be consumed or destroyed. We can trust in His presence and power to carry us through every difficulty we encounter.
18. 2 Corinthians 12:9-10
"But he said to me, 'My grace is sufficient for you, for my power is made perfect in weakness.' Therefore, I will boast all the more gladly about my weaknesses, so that Christ's power may rest on me. That is why, for Christ's sake, I delight in weaknesses, in insults, in hardships, in persecutions, in difficulties. For when I am weak, then I am strong."
In this passage, the apostle Paul shares how God's grace sustains him during trials and tribulations. Despite his weaknesses, God's power is made perfect through them. Paul recognizes that his trials allow him to depend fully on Christ's strength rather than his own. This teaches us that in our weakness and vulnerabilities, we can experience the strength and power of Christ working within us. Instead of feeling discouraged by our weaknesses and hardships, we can boast in them, knowing that through them, God's power is displayed.
19. Psalm 27:1
"The Lord is my light and my salvation—whom shall I fear? The Lord is the stronghold of my life—of whom shall I be afraid?"
This psalm reminds us that God, as our light and salvation, is our ultimate source of strength and protection. In the face of trials and tribulations, we need not fear or be afraid. God's presence brings guidance and assurance, dispelling the darkness and giving us hope. He is our stronghold, a place of safety and security in which we can find refuge. When we trust in Him and acknowledge His sovereignty, there is no need for fear, for He is always with us, guarding and watching over us.
20. Psalm 119:71
"It was good for me to be afflicted so that I might learn your decrees."
Though it may sound counterintuitive, affliction and trials can be beneficial for our spiritual growth. This verse expresses the idea that the psalmist found it good to experience affliction because it led him to gain insight and understand God's decrees more fully. Trials can serve as opportunities for us to draw closer to God, developing a deeper understanding of His word and ways. Through trials, we can learn to rely on God's wisdom and seek His guidance, ultimately strengthening our faith and relationship with Him.
21. Proverbs 3:5-6
"Trust in the Lord with all your heart and lean not on your own understanding; in all your ways submit to him, and he will make your paths straight."
This verse encourages us to place our complete trust in the Lord, especially during trials and tribulations. Instead of relying on our limited human understanding, we are called to trust in God's wisdom and guidance. By surrendering our ways to Him in every aspect of our lives, we invite Him to lead us on straight paths. Trusting in God does not guarantee a life without challenges, but it provides the assurance that He will faithfully guide us through the difficult times and make our paths straight according to His perfect plan.
22. 1 Peter 4:12-13
"Dear friends, do not be surprised at the fiery ordeal that has come on you to test you, as though something strange were happening to you. But rejoice inasmuch as you participate in the sufferings of Christ, so that you may be overjoyed when his glory is revealed."
Peter reminds us that trials and hardships should not catch us off guard. Rather, we should expect them as a natural part of our Christian journey. These trials test and refine our faith, shaping us into Christ's likeness. Therefore, instead of becoming disheartened or discouraged, we can rejoice, knowing that we participate in the sufferings of Christ. Our participation in His sufferings enables us to share in His glory when He returns in all His splendor. Let us embrace the trials, knowing that they contribute to our spiritual growth and prepare us for the eternal joy to come.
23. Job 23:10
"But he knows the way that I take; when he has tested me, I will come forth as gold."
When faced with trials and tribulations, this verse reminds us that God sees and knows all that we are going through. However, even in the midst of testing, we can have confidence that we will come forth as refined gold. Just as gold is purified through intense heat, our trials serve to remove impurities from our lives, strengthening our faith and character. Through the testing, we learn to trust in God's sovereignty, knowing that He is working all things for our good. Our journey through the trials is not in vain, for God promises to transform us into something beautiful and precious.
24. James 5:11
"As you know, we count as blessed those who have persevered. You have heard of Job's perseverance and have seen what the Lord finally brought about. The Lord is full of compassion and mercy."
The story of Job is often referenced in relation to trials and perseverance. This verse highlights the importance of persevering through trials, as Job did. Despite the immense suffering Job endured, he remained faithful and never turned away from God. In the end, God restored Job's fortunes and blessed him abundantly. This serves as a reminder that God is full of compassion and mercy towards His faithful servants. By enduring trials with steadfastness and trust in God, we can also experience His faithfulness and receive His blessings.
25. 2 Timothy 3:12
"In fact, everyone who wants to live a godly life in Christ Jesus will be persecuted."
This verse emphasizes that as believers in Christ, we should not be surprised when trials and persecutions come our way. The decision to live a godly life will inevitably invite opposition from the world, as Jesus Himself experienced. The world's values and standards often conflict with the teachings of Christ, leading to opposition and persecution. However, we can find solace in knowing that our sufferings are a result of living a godly life. As we remain faithful to Christ, we can take comfort in His presence, knowing that He understands and is with us in every trial.
What Does the Bible Say About Trials and Tribulations?
The Bible addresses the theme of trials and tribulations, highlighting the inevitability of challenges and hardships in human life. These trials can take various forms, including personal struggles, persecution, and adversity. The Bible emphasizes the potential for growth, perseverance, and spiritual maturity that can result from enduring these difficulties.
Trials as a Part of Life: The Bible acknowledges that trials and tribulations are a natural part of the human experience due to the fallen nature of the world. In the Book of Job, Job undergoes immense suffering, questioning the reason for his trials while ultimately maintaining his faith.
Perseverance and Spiritual Growth: The New Testament, especially the writings of the apostle Paul, speaks about the value of enduring trials. In Romans 5:3-4, Paul suggests that suffering produces endurance, character, and hope. James 1:2-4 encourages believers to consider trials as opportunities to develop perseverance and maturity in faith.
God's Presence in Trials: The Bible teaches that God is present with believers during their trials. Psalm 23:4 assures that even in the darkest times, God is a comforting presence. Isaiah 43:2 promises that God will be with His people in times of trouble.
Hope and Future Glory: Biblical passages, such as Romans 8:18, convey the idea that the present sufferings are temporary and not comparable to the future glory that awaits believers. Revelation 21:4 describes a time when God will wipe away every tear and there will be no more pain or sorrow.
Purpose in Trials: The Bible suggests that trials can have a purpose beyond the immediate challenges. For instance, in 2 Corinthians 1:3-4, Paul speaks about God comforting believers in their troubles so they can comfort others. This underscores the idea that our trials can lead to empathy and the ability to support others going through similar difficulties.
In summary, the Bible teaches that trials and tribulations are an integral part of human life, but they can lead to personal growth, spiritual maturity, and a deeper reliance on God. The message of hope, perseverance, and God's presence during trials resonates throughout its pages.