A guilty heart can weigh us down, hindering our growth and clouding our relationship with God. Join us as we embark on a path of healing and restoration, exploring Bible verses about a guilty heart.
Discover the transformative power of forgiveness, the freedom found in repentance, and the overwhelming grace that washes away our guilt and sets us free.
Bible Verses about a Guilty Heart
Psalm 32:5
"I acknowledged my sin to you, and I did not cover my iniquity; I said, 'I will confess my transgressions to the Lord,' and you forgave the iniquity of my sin."
This verse reminds us of the liberating power of confession. Rather than hide our sins and bear the guilt internally, we are encouraged to admit our wrongdoings to God. In return, we receive divine forgiveness, alleviating the burdensome guilt that comes with sin.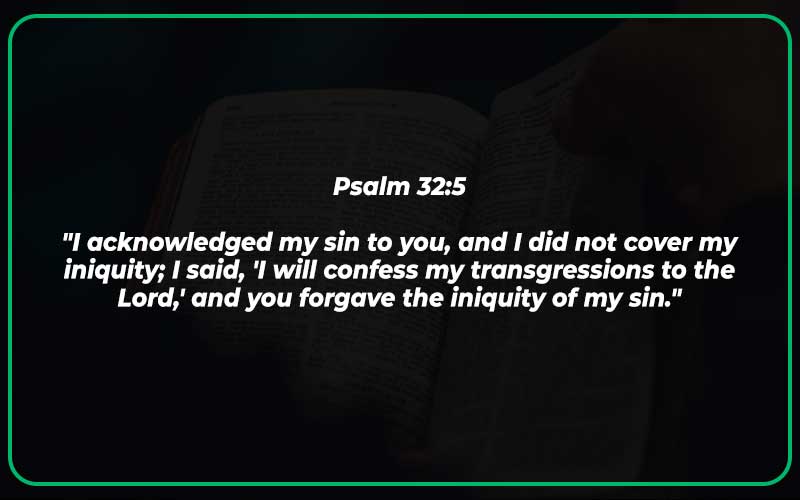 "But when they heard it, they went away one by one, beginning with the older ones, and Jesus was left alone with the woman standing before him."
The context of this verse is Jesus's response to those who were about to stone a woman caught in adultery. The guilty hearts of the accusers were exposed when they left one by one. It speaks of the powerful truth that nobody is without sin and the realization of one's guilt can lead to transformation.
Psalm 38:18
"For I confess my iniquity; I am sorry for my sin."
The verse emphasizes the remorse that accompanies guilt. It's not enough to acknowledge our wrongs, but we must also feel genuine remorse. True repentance starts with a guilty heart, leading us to seek forgiveness.
Romans 2:15
"They show that the work of the law is written on their hearts, while their conscience also bears witness, and their conflicting thoughts accuse or even excuse them."
This verse illustrates the universal human struggle with guilt. Regardless of religious or cultural background, our conscience bears witness to our actions, either accusing or excusing us. This reflects the inherent moral compass within us.
Proverbs 28:13
"Whoever conceals his transgressions will not prosper, but he who confesses and forsakes them will obtain mercy."
This verse from Proverbs reiterates the importance of confession for healing a guilty heart. By concealing transgressions, one invites misery and stagnation, but through confession and forsaking of sins, mercy is granted.
1 John 1:9
"If we confess our sins, He is faithful and just to forgive us our sins and to cleanse us from all unrighteousness."
This verse assures us of God's mercy and faithfulness in forgiving our sins. Confessing our sins allows God's love to cleanse us from all unrighteousness, thus alleviating our guilt.
Jeremiah 17:9
"The heart is deceitful above all things, and desperately sick; who can understand it?"
Jeremiah cautions us about the deceptive nature of the heart. Our guilt often stems from our heart's deceitful tendencies, emphasizing our constant need for divine guidance and wisdom.
Hebrews 10:22
"Let us draw near with a true heart in full assurance of faith, with our hearts sprinkled clean from an evil conscience and our bodies washed with pure water."
This verse encourages us to approach God with a pure heart and full faith, cleansed from an evil conscience. It illustrates the transformative power of faith, helping us overcome guilt and enter into a state of spiritual cleanliness.
Psalm 51:10
"Create in me a clean heart, O God, and renew a right spirit within me."
David's plea to God for a clean heart and a renewed spirit in this Psalm emphasizes the importance of seeking divine intervention in dealing with guilt. It underscores the necessity of a clean heart and a renewed spirit for a guilt-free existence.
Matthew 5:8
"Blessed are the pure in heart, for they shall see God."
This verse promises divine favor to those with a pure heart. Purity of heart, free from guilt and sin, is extolled as the pathway to experiencing the divine. It is a call to cleanse our hearts of guilt so as to see God.
2 Corinthians 7:10
"For godly grief produces a repentance that leads to salvation without regret, whereas worldly grief produces death."
Paul differentiates between godly grief and worldly grief. Godly grief, akin to guilt, leads to repentance and salvation, but worldly guilt only leads to spiritual death. It's a reminder that guilt, when properly understood and addressed, can lead to spiritual growth.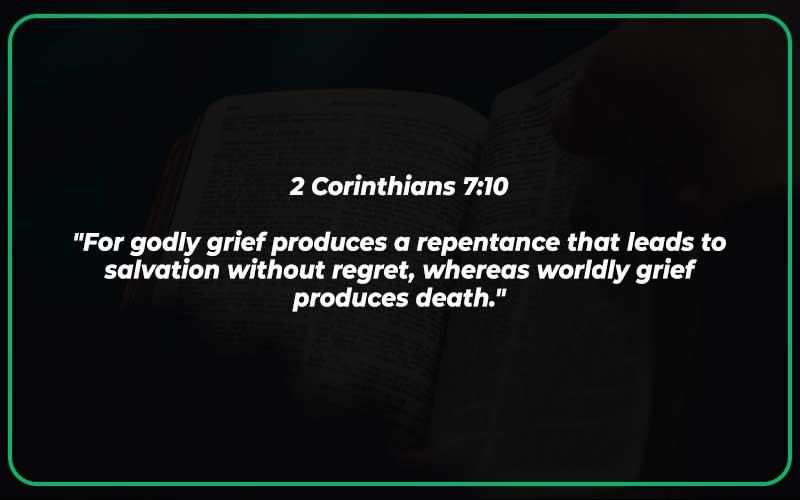 Isaiah 1:18
"Come now, let us reason together, says the Lord: though your sins are like scarlet, they shall be as white as snow; though they are red like crimson, they shall become like wool."
This verse offers hope for those burdened by a guilty heart. Despite the gravity of our sins, God is willing to cleanse us, changing our scarlet sins into white wool. This divine promise can ease guilt and encourage repentance.
Psalm 34:18
"The Lord is near to the brokenhearted and saves the crushed in spirit."
This comforting verse assures us that God is close to those who are heartbroken or crushed in spirit. The feeling of guilt often leaves us with a crushed spirit, but we can take solace in the fact that God is near, ready to save.
James 5:16
"Therefore, confess your sins to one another, and pray for one another, that you may be healed. The prayer of a righteous person has great power as it is working."
James urges us to confess our sins to each other, suggesting communal confession and intercession as a pathway to healing. The acknowledgement and sharing of guilt can lead to collective healing and spiritual growth.
Ezekiel 18:31
"Cast away from you all the transgressions that you have committed, and make yourselves a new heart and a new spirit! Why will you die, O house of Israel?"
Ezekiel encourages us to cast away our transgressions and adopt a new heart and spirit. The call is to shed the guilt associated with past sins and to embrace a fresh start. It is an invitation to renewal and life.
Acts 3:19
"Repent therefore, and turn back, that your sins may be blotted out,"
This verse calls for repentance, a turning back, so that our sins may be erased. It illustrates that the process of freeing oneself from guilt involves a conscious decision to change, to repent and turn from our sinful ways.
Psalm 103:12
"As far as the east is from the west, so far does he remove our transgressions from us."
The verse provides a vivid metaphor for God's forgiveness. Our transgressions, and the guilt associated with them, are removed as far as the east is from the west – an infinite distance, suggesting complete forgiveness.
Also Read: 25 Bible Verses about God Will Take Care of You (With Commentary)
Romans 3:23
"For all have sinned and fall short of the glory of God,"
Paul reminds us that all humans are prone to sin, and thus, to guilt. This shared vulnerability can foster humility and understanding, reminding us that guilt is a universal human experience and can be overcome.
1 Peter 5:7
"Casting all your anxieties on him, because he cares for you."
Peter encourages us to cast all our anxieties, including guilt, on God because He cares for us. This is a call to surrender our guilt to God, trusting in His love and care to heal us.
1 John 3:20
"For if our heart condemns us, God is greater than our heart, and he knows everything."
John provides comfort by reminding us that even when our hearts condemn us with guilt, God is greater. He knows everything and His grace exceeds our feelings of guilt, offering a way out of self-condemnation.
Luke 7:47
"Therefore, I tell you, her sins, which are many, are forgiven—for she loved much. But he who is forgiven little, loves little."
This verse suggests a correlation between the depth of our guilt and the capacity to love. The woman in this passage, despite her many sins, showed great love, indicating that forgiveness, even of severe guilt, can engender profound love.
Psalm 139:23-24
"Search me, O God, and know my heart! Try me and know my thoughts! And see if there be any grievous way in me, and lead me in the way everlasting!"
This passage is a heartfelt prayer for divine scrutiny and guidance. It signifies the willingness to confront one's guilt, and seek divine direction towards the 'way everlasting'. This willingness is an essential step in overcoming guilt.
Romans 8:1
"There is therefore now no condemnation for those who are in Christ Jesus."
Paul offers solace by stating that those in Christ Jesus are free from condemnation. This verse affirms that through faith in Jesus Christ, we can be released from the guilt and condemnation associated with sin.
Proverbs 3:5-6
"Trust in the Lord with all your heart, and do not lean on your own understanding. In all your ways acknowledge him, and he will make straight your paths."
These verses call for complete trust in the Lord, urging us not to rely solely on our understanding. It is a reminder that divine wisdom surpasses human wisdom. In the face of guilt, we are encouraged to trust in God's guidance rather than our perceptions.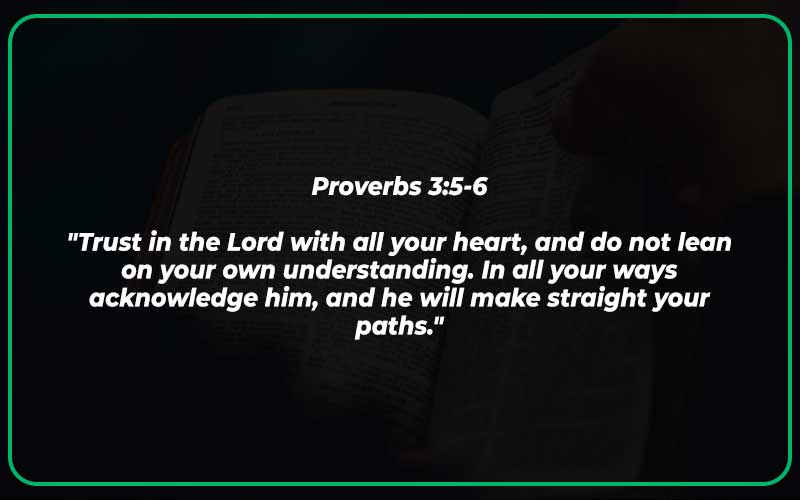 2 Corinthians 5:17
"Therefore, if anyone is in Christ, he is a new creation. The old has passed away; behold, the new has come."
The final verse is a proclamation of the transformation possible in Christ. The guilt and sin of the old self are replaced by a new, guilt-free creation. This transformation offers hope for those struggling with a guilty heart, showing that renewal and freedom from guilt are attainable through Christ.
What does the Bible say About a Guilty Heart?
The Bible addresses the concept of a guilty heart in several passages. It acknowledges that guilt is a common human experience, often arising from wrongdoing or sin.
The Bible encourages individuals to acknowledge their guilt, seek forgiveness, and make amends. It emphasizes that true repentance, accompanied by a sincere desire to change one's ways, leads to reconciliation with God and others.
Moreover, it teaches that through faith in God's grace and mercy, a guilty heart can find redemption and be transformed into a heart filled with peace and righteousness.